A semi-truck driver identified as Derris Marquis Kennedy was arrested after leading the officers on a chase in Los Banos, which resulted in injuries on Thursday afternoon, October 15.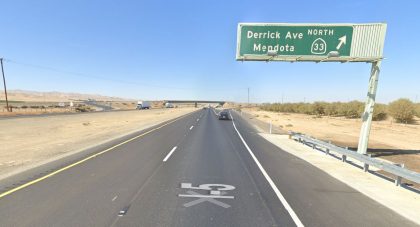 The chase started around noon along the southbound Interstate 5 Freeway in Los Banos. The semi-truck driver was driving recklessly along the roadway while being chased by several police vehicles.  He struck at least three smaller vehicles in the process after overturning along southbound I-5 near Derrick Avenue.
After crashing into other vehicles, the tractor-trailer driver allegedly attempted to carjack other vehicles. Local authorities arrived at the scene and apprehended him. Several people were injured as a result of the mishap. The exact number of injured victims is currently unclear.
The suspect was later booked into Fresno County Jail. He is currently facing numerous charges, including carjacking, reckless driving causing injury, hit-and-run, resisting arrest, and battery on a peace officer.
Semi-Truck Accident Investigation is Underway
Local authorities are actively investigating the case. Tractor-trailer crashes are often complicated cases as a variety of factors need to be considered. Tractor-trailer crashes are usually caused by loss of control of the truck, a tire blowout, a disabling or non-disabling vehicle failure, excessive speed, lane drifting, improper truck maneuvering, and driver fatigue. Unfortunately, one out of three commercial truck drivers are reported to have mild to severe sleep apnea, affecting their attentiveness and performance.
When facing tractor-trailer accidents like this, it's vital to have a professional Merced County personal injury attorney specializing in tractor-trailer accidents. An attorney can conduct an independent investigation for the client to prove the negligence of the guilty party. Attorneys can serve as a helpful legal guide, but they can also hire expert witnesses, conduct background checks on drivers, and review applicable insurance coverage.
Personal Injury Attorney for Victims of Semi-Truck Accidents in Merced County
Attaining a severe injury after a tractor-trailer accident can be overwhelming as it can affect all aspects of life, such as family, work, and finances. While the official investigation is on-going, the victim is entitled to pursue a personal injury lawsuit.
When filing a personal injury claim, the victim needs to have an experienced California personal injury attorney by his side. Personal injury attorneys can negotiate with insurance companies on behalf of their clients while ensuring that their clients are compensated fairly.
If an accident involving a tractor-trailer leaves you or someone you love injured, it's time to contact an 18-wheeler accident law firm. The dedicated legal team at Arash Law in California has the experience, skill, and compassion to help guide your claim toward its best possible resolution. Your rights and continuing recovery are far too necessary to leave to chance – or the insurance company involved.

We have locations conveniently found throughout California with offices in Los Angeles, Sacramento, San Francisco, Riverside, Orange County, San Jose, and San Diego. But we are more than happy to meet with you at your home, office, or anyplace else in the state of C.A. We're here to help you 24 hours a day and seven days a week – whenever you need us – so to find semi-truck accident lawyers near me, Call (888) 488-1391 today.