An unidentified woman was seriously hurt after a major two-vehicle collision in Salinas on late Tuesday morning, April 27.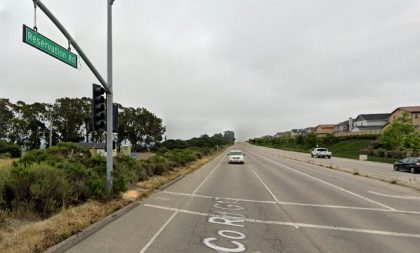 The accident transpired at approximately 11:50 a.m. on Reservation Road near Garrison Drive in Salinas.
A white van and a red GMC SUV collided on the roadway for unclear reasons. The circumstances leading up to the accident have not been established.
A woman riding the SUV was pinned in her vehicle. Firefighters extricated her from the wreckage.
The woman sustained major injuries from the crash. She was taken to an area hospital for treatment.
Additional information about the accident is unavailable at the moment. The California Highway Patrol is currently investigating the case.

Two-Vehicle Collision Statistics
Car accidents are one of the leading factors of injury deaths in California. According to the National Highway Traffic Safety Administration (NHTSA), over 3,304 recorded fatal car accidents in California in 2017.
The flourishing state of California is a hotbed for potential car accidents. Driving anywhere in California is risky. In California, there were approximately 3,723 reported motor vehicle deaths in 2020 alone.
These accidents are caused by various reasons, such as distracted driving, drunk driving, and driver over-fatigue. There are several reasons why car accidents occur. The most common reasons are distracted driving, drunk driving, and driver over-fatigue.
Personal Injury Attorney for Victims of Two-Vehicle Collisions in Monterey County
Your damages are the losses that the negligent driver caused. There are many other losses you might suffer as a result of a car accident. Some of these (like auto repair bills) are easy to value. Others (like pain and suffering) are more difficult. Insurance companies are notorious for trying to devalue the losses that are hard to value.
As the bills stack up, you might wonder when you'll receive payment for your damages. Speaking with an attorney is often the first step in getting your medical bills paid. Facing cases like this alone can be quite challenging. With the help of an experienced Monterey County personal injury attorney, the victims won't need to deal with the stressful paperwork that comes with filing a claim.
Our attorneys from Arash Law can help you with your claim. Call (888) 488-1391 or contact us online to schedule your free consultation. Don't delay – the sooner you have an experienced car accident attorney fighting on your side, the better protected your legal rights will be.