A 29-year-old Motoristclyst lost their life Sunday in a  collision near the 210 & 15 Freeways
According to the California Highway Patrol, the incident occurred on the transition road in-between the 210 west Freeway &
the 1-5 Freeway southwest, at about 2:10 PM. A 2013 Yamaha motorcycle was traveling in-between two lanes in an undetermined rate when it collided with a Toyota Corolla.
According to the California Highway Patrol incident records, at about 2:12 pm dispatch received calls from a motorist reporting the motorcycle for splitting lanes & swerving before going down on the 7th of July.
There Is Very Little Data To Show The Safety Of This Practice
A study was done in 2014 provided data that only 60.7 percent of drivers in California knew that it was legal for motorcyclists to lane split. The motorcyclists that are lane splitting are still required to follow and obey the speed limit in the area and to obey any other rules of the road. If they do not responsibly split lanes, they can be ticketed.
Lane Splitting can be potentially dangerous, and you should exercise extreme caution when participating in this activity. This is not a task that should be performed by a rider who is not experienced. The risk of a severe injury or death in a lane-splitting collision rises when speed and speed differential is increased. To assist you in the practice of lane splitting these general safety tips below are available to guide you, but they cannot guarantee your safety. Each rider is ultimately responsible for their safety and decision-making.
Unfortunately, the motorcyclist suffered deadly injuries & passed-away at the scene.
For reasons still unknown, the rider lost control of the bike & crashed on the I-210 west to the I-15 south connector. The rider has been run over by a commercial semi-truck after being ejected from the motorcycle. Meanwhile, the FedEx truck driver remained & cooperated with investigators. However, it is unknown whether or not the Toyota motorist stopped to leave aid. If you wish to help the victim's family, you can participate in a fundraiser event hosted by the motorcycle driver's friends.
Speak with our Motorcycle Accident Attorneys in California 24hrs a day, 7-days a week at (855) 800-1057
Tips For Motorcycle 'Lane-Splitting' The Safe Way
The danger is increased with overall speed increases.
Avoid lane splitting when next to larger vehicles, such as big rigs, motorhomes, buses, etc.
The danger is increased with higher speed differentials.
You should consider the complete environment when lane splitting, this includes the lane's width, the size of the vehicles surrounding you, the current roadway, lighting conditions, and the weather.
It is not considered lane splitting if you are riding on the shoulder and doing so is illegal.
Be sure to stay visible. Stay out of blind spots of other drivers and avoid lingering between vehicles.
Wearing bright colored or reflective clothing and using high beams can help drivers spot you.
 Four important reminders To Help Keep Motorcyclists Safe While Riding:
Always assume people in cars do not see you.
It is highly likely that a collision of a motorcycle will cause death or injury.
Stay out of blind spots of vehicles, particularly the larger trucks.
Pay attention to your speed.
Authorities will give out extra information to the public once it becomes available, but we want to extend our deepest heartfelt condolences to the family & friends of the deceased accident victim.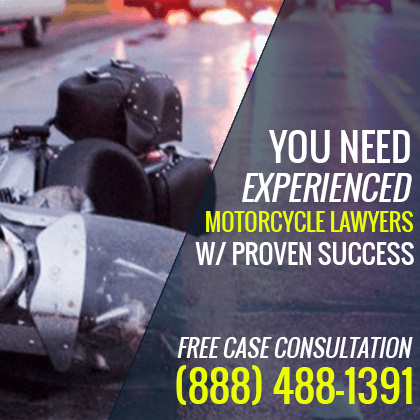 The Loss of a Loved One in a Motorcycle Accident Requires The Best California Accident Attorneys
Not every motorcycle accident victim walks away. Motorcyclists are much more likely to experience fatal injuries in a crash than passengers of other motor vehicles.
If you have lost a loved one in a motorcycle accident, reach out to the most respected wrongful death attorneys in all of California, at Arash Law.
With more than 20 years of combined hands-on experience in the legal injury field, we know just what it requires to win your own case.
Call our offices today  (855) 800-1057 to set up a completely free consultation with an accident lawyer in the convenience of your own home, office or bedside.
For your convenience, you may also get ahold of us via email, text messaging, or online chat 24 hrs a day, year-round.
---
FOR IMMEDIATE RELEASE


Motorcyclist Killed on the 210 Freeway in Rancho Cucamonga


RANCHO CUCAMONGA, Cal., July 8, 2019 – At about 2:12 p.m. on Sunday, July 7, 2019, a motorcyclist reportedly lost control on the 210 freeway close to the interchange with I-15 south. The unidentified motorcyclist was ejected from his bike and landed in the no.4 lane, where a Fed Ex semi-truck ran over him. First responders pronounced the motorcyclist dead at the scene of the accident. 

The California Highway Patrol (CHP) reported receiving phone calls from other motorists that the motorcyclist was swerving and lane-splitting prior to losing control. Authorities did not yet have a reason for the rider's crash that caused him to be ejected. The Fed Ex truck driver was able to stay at the scene and was cooperating with law enforcement officers in their continuing investigation. 

Arash Law is a law firm handling personal injury and wrongful death cases throughout the State of California. The team of attorneys has extensive experience helping clients after serious traffic accidents and injuries, and anyone affected by a crash should schedule a free case evaluation as soon as possible.

---

Arash Law
2960 Wilshire Boulevard
Los Angeles, CA 90010
Phone: (855) 800-1057