A 49-year-old man identified as Arthur M. was injured after a motorcycle crash in American Canyon on Wednesday morning, September 29.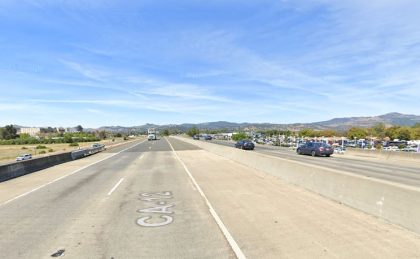 The collision took place on westbound Highway 12 near Highway 29 and just east of Chardonnay Golf Club at around 8:16 a.m. A man riding a 2015 Harley-Davidson was traveling between the two westbound lanes when he clipped the side-view mirror of a 2018 Ford F-150 pickup, causing the motorcycle and rider to crash into the pavement.
Emergency personnel later arrived at the scene and found the motorcycle rider lying down in the roadway with serious injuries. The motorcycle rider was immediately taken to an area hospital for treatment. He reportedly sustained moderate to major injuries in the mishap.
The pickup truck driver remained at the scene and willingly cooperated with authorities. He was uninjured in the accident. No arrests were made. Local authorities are further investigating the factors that may have caused the collision.

Motorcycle Accident Statistics
Motorcyclists are among the most vulnerable road users. Motorcycle riders are 16 times more likely to be injured and 35 times more likely to be killed in a crash than car passengers. Unfortunately, motorcycle accidents are increasing at an alarming rate across the country. According to the National Center for Statistics and Analysis of the National Highway Traffic Safety Administration, approximately 5,286 motorcyclists were killed in the United States in 2016.
A study done in 2015 by UC Berkeley's Safe Transportation Research & Education Center discovered that seventeen percent of around six thousand motorcyclists that crashed between June 2012 and August 2013 were all lane-splitting when they collided with another vehicle. While it is not necessarily illegal to lane split, it is not legal to do so either. However, Lane splitting creates a severe hazard to the safety of riders and the other motorists on the road.
Personal Injury Attorney for Victims of Motorcycle Accidents in Napa County
Motorcycle accidents are considered among the most severe crashes in California, as the conception is that they are usually fatal. That is because motorcycles lack the barricades of protection you would have in a car accident. They aren't usually fatal. But they are serious and sometimes deadly.
Motorcycle accidents often result in severe injuries that can last for several months up to a lifetime. Couple that with property damage, and you have a life-changing event that you deserve compensation for. We are a motorcycle accident law firm that knows what you need and how to get it for you.
Motorcycle accidents are among the most traumatizing because the injuries are severe and game-changing. If you or someone you know has been in one, we can help. We've been helping California residents for decades recover damages from motorcycle accidents.
Our motorcycle accident law firm can review your case at no cost to you and tell you what you are entitled to when it comes to damages. Call the motorcycle accident team at Arash Law today at (888) 488-1391 and help you get the claim started.