Two people were hurt after a major head-on traffic collision in Calistoga on Thursday morning, July 8th.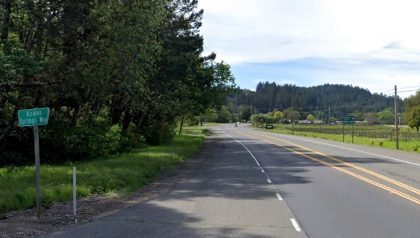 The accident transpired at approximately 6:30 a.m. on Highway 29, just north of Azalea Springs Road in Calistoga. A 33-year-old man identified as Kevin Y. was reportedly heading northbound in his 2011 Ford Mustang on Highway 29.
But, for unclear reasons, the Mustang drifted across the center median and veered into the opposite lanes. The Ford Mustang then collided head-on with a southbound 2015 GMC Sierra operated by 33-year-old Eric V. The GMC Sierra driver sustained moderate injuries from the crash, and he was immediately taken to Providence Queen of the Valley Medical Center.
The Mustang driver was also seriously injured in the collision. He was rushed to an area hospital for treatment. Both vehicles sustained major front-end damage and were towed away. The California Highway Patrol is further investigating the collision. They will try to determine the cause of the collision and the liability.

Head-On Collision Statistics
When two vehicles collide directly with each other while traveling in opposite directions, it is a head-on collision. Even at slow speeds, these accidents can cause severe injuries and even death. Statistics estimate that only 2% of crashes are head-on collisions, but they account for well over 10% of driving fatalities.
Head-on collisions can cause serious injuries to the involved parties. The most common injuries related to a head-on collision include spinal injuries, brain injuries, catastrophic injuries, broken bones, and even paralysis. Head-on collisions, like in this case, are commonly caused by various factors, such as drunk driving, distracted driving, poor road design, and confusion on the part of the driver. The most common cause of head-on accidents is driver error.
Personal Injury Attorney for Victims of Head-On Collisions in Napa County
Head-on collisions can result in serious injuries that can sometimes become permanent. A permanent injury can quickly accrue millions of dollars in financial losses. If, for example, you are unable to return to work, you are entitled to compensation for all the wages you would have earned between the time of the accident and the time of your expected retirement. This compensation includes bonuses, commissions, overtime, and raises.
Arash law is here to help victims of similar cases pursue the justice that they deserve. We have experienced attorneys and resources that can help you in winning your case. For more information and inquiries, visit our offices in Los Angeles, Sacramento, San Francisco, Riverside, Orange County, and San Diego. You may also call our hotline (888) 488-1391 for a FREE Consultation.