One person was killed while another was injured after a major pedestrian accident in Huntington Beach on Sunday evening, July 25.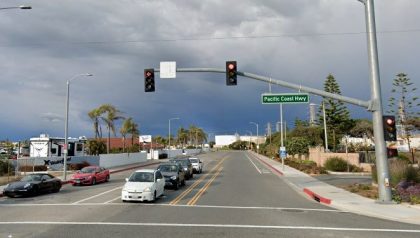 The fatal accident occurred at Pacific Coast Highway and Newland Street in Huntington Beach at approximately 8:00 p.m. An Altima heading northbound reportedly ran a red light and struck a man and a woman walking in a marked crosswalk.
The Altima driver did not stop to render aid and drove away from the scene. Surveillance footage later revealed that the Altima driver stopped a short distance from the crash scene and abandoned her vehicle with her passenger. One of the pedestrians, who was later identified as 48-year-old DeAnna S., was pronounced dead at the scene.
The other victim, 50-year-old Frederick "Rick" S., sustained serious injuries from the crash and was taken to an area hospital for treatment. Authorities were able to locate the whereabouts of the hit-and-run driver. She was identified as Chillandra Dalanalea B. and was apprehended by officers at a residence in Huntington Beach.
The hit-and-run driver was arrested on suspicion of vehicular manslaughter with gross negligence and hit and run resulting in injury. She is held at the county's Intake Release Center for women on $100,000 bail. The accident is under further investigation. Witnesses that can give more information about the crash are urged to contact Investigator D. D. at 714-536-5670 or Investigator V. R. at 714-536-5663.

Fatal Hit-and-Run Pedestrian Accident Statistics
Pedestrian accidents are different from other types of accidents because pedestrians are unprotected in the case of an accident. Seat belts and airbags protect those riding in cars in vehicles that weigh at least 4,000 pounds.
According to statistics from the National Highway Traffic Safety Administration (NHTSA), the federal agency responsible for ensuring the safety of those on America's roadways, more than 5900 pedestrians were killed in 2016 across the entire United States.
Pedestrian accidents frequently result in serious injuries and even death to those unfortunate enough to be involved in one. Pedestrian accidents commonly result in head trauma such as concussions or brain bleeds, traumatic brain injuries, and various other debilitating injuries.
Unfortunately, around one in five pedestrian accidents are caused by hit-and-run drivers. Sixty percent of people killed in hit-and-run accidents are pedestrians. Common reasons why hit-and-run drivers flee the scene are intoxication, driving without a license, and fear of getting arrested if they remain.
Orange County Wrongful Death Attorney for Victims of Fatal Pedestrian Accidents
Losing a loved one from a devastating accident can leave the victim's family overwhelmed with grief and stress. It could make them vulnerable to insurance companies and other parties manipulating them. It is necessary to have an attorney on your side to fight for your rights to avoid this.
The victim's family is encouraged to pursue a wrongful death claim with the assistance of their attorney while the official investigation is underway. The victim's family can file a wrongful death claim to recover damages (such as lost income and companionship, funeral costs, pain and suffering, and emotional distress) caused by the fatal accident.
Our attorneys at Arash Law are available to assist you at any time of day or night. You will be one step ahead of the insurance company or responsible party if you hire an experienced pedestrian accident attorney from Arash Law. You will also avoid making mistakes that could jeopardize your claim.
Our attorneys will also conduct an immediate investigation to gather evidence while it is still readily available to them. As part of our services, we can handle discussions with the insurance company, calculate your damages, and employ tried-and-true legal strategies during settlement negotiations and possible litigation. Call (888) 488-1391 for a FREE Consultation with a wrongful death attorney in California.