One unidentified person was killed after a deadly motorcycle crash in Garden Grove on Saturday evening, July 24.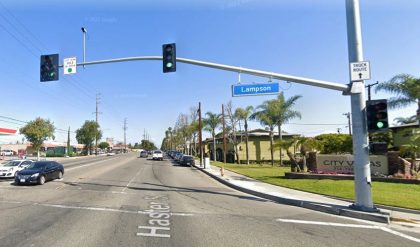 The fatal collision transpired at approximately 6:30 p.m. in the area of Haster Street and Lampson Avenue in Garden Grove. An unspecified vehicle reportedly made an unsafe turn on the roadway and crashed into an oncoming motorcyclist.
Emergency personnel later arrived at the scene and found the motorcycle rider on the road with serious injuries. Unfortunately, the motorcycle was unable to survive his injuries and was pronounced dead at the scene. His identity has not been disclosed.
The driver that struck the victim remained at the scene and cooperated with authorities. Alcohol and drugs were believed to be a factor in the accident. However, no arrests have been made at the moment. Local authorities are further investigating the cause of the collision. Witnesses that can provide more information about the accident are urged to call the Garden Grove Police Department at 714-741-5704.

Fatal Motorcycle Accident Statistics
Motorcycle accidents are terrible tragedies that almost always cause more harm to the motorcyclist than to the other party involved. Motorcycle riders are particularly vulnerable to collisions and are more likely than others to sustain catastrophic and fatal injuries. According to statistics from the National Highway Traffic Safety Administration (NHTSA) in the United States, motorcycle riders are 16 times more likely to be injured and 35 times more likely to be killed in a traffic accident compared to passengers of closed vehicles.
Motorcycle riders are encouraged to dress appropriately and always to wear a helmet when riding their motorcycles to prevent fatal injuries from occurring. Helmet use was found to be 37 percent effective in preventing motorcycle fatalities, according to research. Distracted driving, speeding, intoxicated driving, reckless driving, inclement weather, wrong-way driving, and failure to obey traffic laws are all common causes of motorcycle accidents.
Orange County Wrongful Death Attorney for Victims of Fatal Motorcycle Accidents
Moving forward after losing a loved one from a fatal motorcycle accident can seem difficult and impossible. Often, the victim's family is confused about what steps they must take next. After getting involved in a fatal motorcycle accident, the victim's family is encouraged to speak with an experienced attorney to assist them with their wrongful death claim.
A claim can bring the responsible party to justice, provide closure for your family, and provide financial compensation for your losses. Our team from Arash Law deeply sympathizes with those who have lost family members or spouses due to negligence. We want to assist you in making the most of your wrongful death claim in California. For a free initial consultation, please get in touch with our Arash Law attorneys. Contact us online or by phone at (888) 488-1391.