A wheelchair-bound pedestrian was killed after getting struck by two vehicles at a Fountain Valley intersection on early Saturday morning, July 10.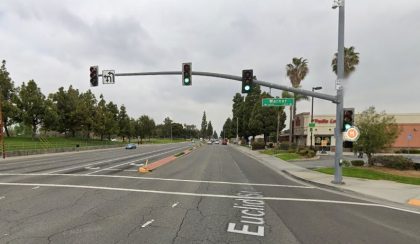 The accident transpired at around 2:30 a.m. at the intersection of Euclid Street and Warner Avenue in Fountain Valley. The pedestrian was attempting to cross the street when a northbound blue 2021 Chrysler Pacifica suddenly struck him. After getting struck by a minivan, the man was then run over by a white 2001 Jeep Grand Cherokee.
Emergency personnel later arrived at the scene and found the pedestrian lying on the roadway. He was sadly pronounced dead at the scene. Both of the drivers remained at the scene and willingly cooperated with authorities.
It is unclear what caused them to run over the pedestrian. The case is currently under investigation. Authorities will attempt to determine the factors and the liability in the accident. Witnesses that can provide more information about the accident are urged to contact the department's traffic bureau at 714-593-4481.

Fatal Pedestrian Accident Statistics
Pedestrian accidents differ from other types of accidents in that pedestrians do not have any protection in the event of an injury. Vehicles that carry passengers weigh an average of at least 4,000 pounds and are equipped with seat belts and airbags to protect them in the event of an accident.
In the last 33 years, pedestrians have made up a large percentage of traffic fatalities. Pedestrian fatalities in the United States increased by 27% between 2007 and 2016, according to the Governors Highway Safety Association, while other traffic-related deaths decreased by 14%.
California's pedestrian fatality rate is 25% higher than the national average. In 2018 alone, 893 pedestrians were killed, and more than 14,000 were injured on California roadways. Some common reasons pedestrian accidents occur are negligent driving, speeding, and drivers failing to yield to pedestrians. It is vital to seek the help of an experienced attorney when facing cases like this.
Orange County Wrongful Death Attorney for Victims of Fatal Pedestrian Accidents.
A California wrongful death lawsuit must also be brought within two years of the date of the accident. A family member is precluded from bringing a wrongful death lawsuit if it is not filed within that time period. This is why it is important to consult an experienced attorney immediately after a fatal pedestrian accident.
An attorney can help you with filing a wrongful death claim. A wrongful death claim can bring justice to the responsible party, give your family closure, and provide financial compensation for your losses. Arash Law sympathizes deeply with those who have lost family members or spouses because of negligence.
Have you lost a loved one in a fatal pedestrian accident? Consult with one of our attorneys from Arash Law now. They can guide you throughout the legal process and give you the appropriate advice on what to do next. Don't delay, and contact our firm today at (888) 488-1391 for a FREE Consultation with a wrongful death attorney.