One person was killed after a deadly hit-and-run pedestrian accident in Garden Grove on Sunday morning, March 21.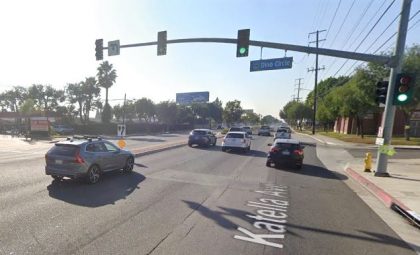 The accident took place at Katella Avenue and Dino Street in Garden Grove at approximately 3:30 a.m.
A male pedestrian was reportedly struck by a passing vehicle for unclear reasons. The driver that struck the victim did not stop to render aid and fled the scene.
The male pedestrian was seriously injured as a result of the accident. He was rushed to an area hospital, but unfortunately, he was unable to survive his injuries. He was later pronounced dead.
A description of the hit-and-run driver's vehicle and appearance is currently unavailable.
Local authorities are actively looking for the whereabouts of the hit-and-run driver.
Witnesses that can provide additional information about the suspect's identity or whereabouts are encouraged to contact Traffic Investigator Paul A. at 714-741-5823.

Fatal Hit-and-Run Statistics
It is apparent in this case that the liability falls on the hit-and-run driver for leaving the victim wounded and fleeing the scene. The suspect will most likely face criminal charges once caught.
Leaving the scene after an accident is a crime in itself. Unfortunately, hit-and-run accidents still occur on U.S roadways every day.
In 2016, approximately 2,049 hit-and-run fatalities were reported in the U.S. Annually, around 682,000 hit-and-run accidents occurred in the country. Pedestrians are common victims of hit-and-run accidents.
Pedestrians are common victims of hit-and-run accidents. They are completely defenseless and vulnerable in the event of someone else's negligence in the circumstances in which most pedestrian accidents occur.
There are several reasons why hit-and-run drivers flee the scene. They might be intoxicated or impaired by drugs, face legal difficulties, be uninsured, or be illegal aliens.
Wrongful Death Attorney for Victims of Fatal Hit-and-Run Accidents in Orange County
If you or your loved one was injured – or worse – killed in a hit-and-run accident, you're likely to be overwhelmed in the aftermath.
While you attend to the vital task of moving forward toward a full physical and emotional recovery, allow your hit and run accident lawyer to help guide your claim toward its best possible resolution. You may be concerned about a hit-and-run lawyer's costs, but don't let this dissuade you from seeking legal counsel.
Attorneys from Arash Law will vigorously fight for their client's rights and best interests while ensuring that the liable party will be held accountable for their negligence.
The dedicated hit and run attorneys at Arash Law are committed to helping you recover from the damages you've suffered. Our dedicated legal team has decades of experience fighting for the rights of accident victims just like you. We're available to help 24 hours a day and seven days a week, so please don't hesitate to call our office at (888) 488-1391 today to discuss your accident with a lawyer for hit and run cases.