An unidentified woman was killed while three others were seriously hurt after a fatal multi-vehicle collision in Fullerton on Wednesday morning, January 27.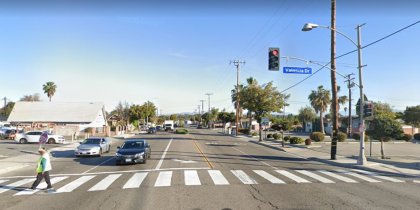 The deadly crash occurred at around 10:00 a.m. on Magnolia Avenue near Valencia, in Fullerton. An unidentified 36-year-old man was reportedly driving his 2005 Chevrolet Silverado northbound erratically on Magnolia Avenue. He then drifted into the opposite lanes for unclear reasons, where he later collided with a southbound Toyota Corolla.
The Silverado then rolled over before crashing into a southbound 2010 Ford Edge. Due to the severity of the impact, the Corolla spun out of control and crashed into a 2006 Nissan Altima. The Corolla driver and passenger were trapped in the wreckage. They were extricated by firefighters and were rushed to an area hospital.
Unfortunately, the 21-year-old female driver of the Corolla later succumbed to her injuries. She died in the hospital while her 18-year-old passenger was left in critical condition. The Silverado driver also sustained life-threatening injuries from the accident and was transported to an area hospital. The 50-year-old Ford driver also has critical injuries.
It is unclear whether drugs and alcohol were a factor in the collision. Local authorities are currently investigating the case. Witnesses that can give more information about the accident are encouraged to call the Fullerton police at 714-738-6815.

Car Crash Statistics
When three or more cars collide on the roadway, it is considered a multi-vehicle collision. This type of car accident is commonly caused by a "chain reaction," when one car bumps into another, which causes the other to hit the next vehicle.
Multi-vehicle collisions are commonly caused by drunk driving, speeding, and distracted driving.
When a car accident occurs, the victims, their families, and the entire community are often devastated. The California Office of Traffic Safety (OTS) reports that there were 3,563 car accident fatalities throughout the state in 2018 alone. Thousands of people must deal with grief and sudden loss in the wake of California's deadly accidents.
Fatal car accidents are grave tragedies that impact the lives of so many people involved. Although a wrongful death lawsuit cannot reverse your loss, it is a small step toward holding negligent people accountable.
Wrongful Death Attorney for Victims of Fatal Multi-Vehicle Collisions in Orange County
Families may have to make sacrifices to pay for these costly yet necessary health care treatments. If you or a loved one has been involved in a fatal car accident, contact an experienced attorney today. Attorneys can assist the victim's family when filing for a wrongful death claim. Through the wrongful death claim, the victim's family can seek compensation for the damages such as funeral expenses, loss of companionship and income, emotional distress, and pain and suffering that the accident has caused them.
If you believe you have grounds to file a claim, retain a local car accident attorney in California near you who can help you navigate car accident laws. Arash Law has decades of experience throughout California and has secured million-dollar settlements and verdicts for our clients. Our car accident team can investigate your crash, identify the potential defendant(s), and file your claim with the civil court system as quickly as possible. Don't delay – you're just a phone call away from learning your legal options.
We're conveniently located throughout California, with offices in Los Angeles, Sacramento, San Francisco, Riverside, Orange County, and San Diego, and are happy to visit you. Call (888) 488-1391 for a FREE Consultation with a wrongful death attorney in California.