A 19-year-old pedestrian identified as Aden U. was killed after getting struck by a suspected drunk driver at the intersection of Tustin Street and Heim Avenue on Thursday night, May 20.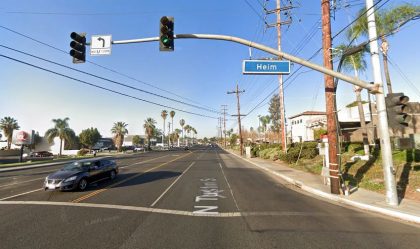 According to the initial reports from local authorities, the accident transpired at around 10:09 p.m. at the intersection of Tusting Street and Heim Avenue.
The young adult was walking home from his job in a crosswalk when an F-250 truck suddenly hit him. The F-250 was initially driving south along Tustin Street when the driver failed to stop for a red light upon reaching the intersection.
The victim sustained fatal injuries from the accident and was pronounced dead at the scene. The F-250 truck driver remained and cooperated with local authorities. The driver was identified as 39-year-old Sitani P.
Authorities later arrested the F-250 truck driver on suspicion of DUI and murder. The suspect was also driving with a suspended license due to a prior DUI, and he was convicted in 2007 of DUI in Los Angeles County.
Officers urge any witnesses to provide additional helpful information about the accident to call Officer Suarez at 714-744-7342.

Fatal DUI Accident Statistics
It is apparent in this case that the liability will fall on the pickup truck driver as he was proven to be driving while under the influence at the time of the accident.
Driving while under the influence is one of the most reckless and dangerous things a driver can do. It won't only endanger their own lives, but it can potentially put other drivers on the roadway at risk as well. Impaired driving can seriously ruin people's lives. Unfortunately, despite implementing laws against DUI drivers, DUI accidents in the U.S. are still rising.
According to the National Highway Traffic Safety Administration (NHTSA), approximately 30 people in the U.S. die every day due to drunk driving accidents. Drunk driving accounts for about 29 percent of all motor vehicle accident fatalities in the U.S. Around sixty-one percent of these drivers have a Blood Alcohol Content of .08 percent or higher.
One of the most disturbing things about DUI wrecks is that they are disproportionately likely to result in fatalities or severe injuries, including traumatic brain injuries (TBIs), broken bones, internal organ injuries, spinal cord damage, and partial or total paralysis.
Orange County Wrongful Death Attorney for Victims of Fatal DUI Accidents
Losing a loved one from a fatal DUI accident can be devastating and stressful for the victim's family. The trauma and grief can have a lasting impact on their lives. Although they won't bring their loved ones back to life, they can still receive compensation and justice from the accident.
In a wrongful death suit, the survivors sue the person responsible for an untimely death and the financial losses they caused. These losses can include funeral and burial expenses, as well as all the lost wages the victim would have earned between the time of the accident and his or her expected retirement.
At Arash Law, we are proud to be aggressive advocates for the victim's family. Our law firm does not represent defendants, nor does it serve insurance companies. We use our skills, knowledge, and legal experience to fight for the interests of our clients.
The sudden unexpected death of a loved one can be quite confusing, among other things. You shouldn't have to be confused or overwhelmed with wrongful death laws during this emotionally difficult time. A fatal car accident attorney from our office can handle the legal issues for you. Call Arash Law today at (888) 488-1391 or contact us online to schedule your free no-obligation fatal car accident case review.