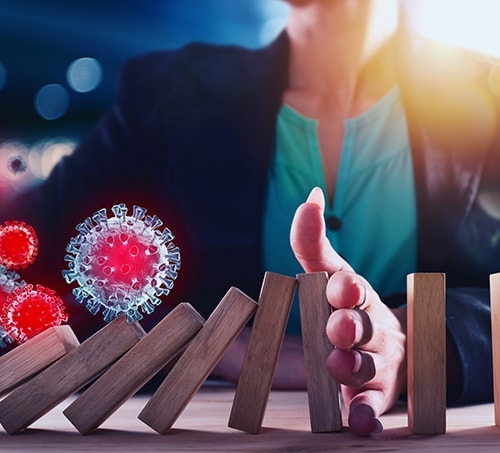 Many things have changed during the current statewide shutdown. The COVID-19 pandemic has shut down stores, restaurants, public transportation, schools, parks, and many other "nonessential services." Even with current "stay at home" orders in place, it is still important for accident victims to continue receiving treatment for their injuries. Continued treatment will prevent both medical and legal issues, as well as the stress these issues will bring. 
What Will Happen If I Pause or Stop Treatment? 
Many treatments (such as physical therapy or chiropractic services) require consistent application over a specific period. If you are not able to complete the full treatment schedule, your injuries may not improve.
In some cases, they can even become worse. This will lead to higher medical bills in the long run, because you must return for additional treatment later. 
Defendants are not usually required to pay the full value of losses if a plaintiff makes the injuries worse by failing to follow through with treatment.
As a result, plaintiffs who fail to get treatment may not be able to recover the full value of their claims, and this frequently occurs in cases where the plaintiff does not follow through with treatments recommended by medical providers. 
But what if you are not able to go to physical therapy or the chiropractor due to COVID-19? In this case, while it is not your fault that you are not able to get treatment, your injuries could still worsen due to the delays. This is a new legal question that has yet to be argued in court. It would be better for injury victims to avoid this problem altogether by seeking treatment as much as possible during the statewide shutdown. 
---
How Can I Stay Safe While Going to Medical Offices? 
The Centers for Disease Control has made recommendations for safety while out in public during the COVID-19 outbreak. These include:
Washing your hands with soap and water for at least 20 seconds after you have been in a public place, or after blowing your nose, coughing, or sneezing.

Using hand sanitizer that contains at least 60% alcohol if soap and water are not available. Cover all surfaces of your hands and rub them together until they feel dry.

Avoiding touching your eyes, nose, and mouth with unwashed hands.

Putting distance between yourself and other people.

Covering your mouth and nose with a cloth face cover (

not

a mask designed for healthcare workers) when around others.

Covering coughs and sneezes.
These recommendations can help keep you safe while at a doctor's office or another medical facility for your treatments.
Some People Are at Increased Risk From the Coronavirus
Some people are more likely to develop serious complications from the coronavirus. For these people, it might not be safe to visit a doctor's office. The CDC reports that the following factors increase your risk of suffering from COVID-19: 
Being age 65 or older

Receiving dialysis treatment

Severe obesity (body mass index of 40 or higher)

Living in a nursing home or long-term care facility

Having medical conditions such as chronic lung disease, moderate to severe asthma, serious heart conditions, diabetes, chronic kidney disease, or liver disease. These conditions are especially risky if they are not well controlled.

Having a weakened immune system due to cancer treatment; smoking; bone marrow or organ transplants; immune deficiencies; poorly controlled HIV or AIDS; or prolonged use of corticosteroids and other medications that weaken the immune system.
The Cost-Benefit Analysis of Visiting a Doctor's Office
Most of us have spent our lives going to the doctor's office without any worry. Now there is the risk of catching the coronavirus. This means we must carefully determine whether or not our visit is worth that risk. Many elective procedures can be put off.
U.S. News and World Report recently reported on the cost-benefit analysis of visiting medical facilities during the pandemic. Ultimately, this is a decision that must be made based upon your specific medical conditions and risk factors.
Many doctors are offering telephone consultations. This can help resolve some medical needs over the phone and make clear to you the risks and benefits of going to your doctor's office in person. 
Virtual Care is Now "The Default"
Even if you can't visit your doctor's office in person, this doesn't mean you can't get medical treatment. CNN predicts virtual care – or "telemedicine" – will become the new normal. In response to the COVID-19 pandemic, the federal government has removed many barriers to promote virtual visits as much as possible. Doctors can now easily conduct patient visits by FaceTime, Zoom, or Skype. 
However, there are challenges in safely applying any new system. Vox – like CNN – predicts that traditional healthcare might never be the same after the widespread use of virtual services during the COVID-19 outbreak. Vox also reports on things patients need to know when receiving virtual care:
Like Any Technology, It Carries Security Risks
Every internet-based technology is vulnerable to hackers. Because patient privacy is a high priority, many in the healthcare field have been opposed to delivering health services over the internet, for fear of exposing sensitive patient information. Of course, privacy concerns have become secondary to health concerns due to coronavirus. Patients should still be aware of the security risks and take measures to protect their sensitive health information. 
The Department of Health and Human Services has temporarily approved FaceTime, Zoom, and Skype for delivering virtual care. (Be careful with Zoom, as it has had security problems due to the recent user load increase) There are also platforms designed for use by medical professionals. Check with your doctor to see what apps and platforms he or she uses. Keep in mind that some programs might require the use of a specific technology. You should not use public platforms like Facebook Live or TikTok. These systems are not designed to protect user privacy in a healthcare setting.

Insurance Carriers Are Increasing Reimbursement Options For Virtual Care
Before you have a virtual appointment with a healthcare provider, it is important to check with your insurance company to see what they will cover. Many companies are expanding their telehealth options during the COVID-19 outbreak. Some are even waiving copays and offering other incentives to use this option. Medicare has expanded its coverage for virtual health services, and it is encouraging state Medicaid programs to do the same. Whatever insurer you use, be sure to confirm your coverage options and restrictions before you receive virtual healthcare. 
"This is not the optimal environment for care."
Unfortunately, many of the treatments required for injury victims rely on in-person visits. Injury victims might not have any virtual options for visiting these healthcare providers.
That being said, in-person visits might not be as safe or effective as they were before the COVID-19 outbreak. The American Physical Therapy Association has stated that this is "not the optimal environment for care, for anyone involved." 
You might not be able to receive treatment as frequently as you did before the pandemic. You also might not receive the same level of care either. For example, a physical therapist might need to wear gloves and other protective barriers that decrease the effectiveness of your treatment.
A chiropractor might limit the amount of hands-on time spent with each patient to reduce the risk of possible transmission of the coronavirus.
These changes to your care are likely to continue for some time. Governor Newsom recently described his plan for reopening California. He clearly stated that "normal it will not be." Businesses will be opened slowly, and not allowed to operate at full capacity. The use of gloves and masks will be common for many workers throughout the state. SF Gate reports that the new measures will take less of a "population approach" (such as requiring everyone to stay home), and focus more on "individual responsibility" (such as requiring the use of face coverings and monitoring temperatures). 
It is important to discuss these changes with your personal injury lawyer. These are new legal issues, and it is not yet clear if defendants will be responsible for the additional pain and suffering caused by the coronavirus. Your attorney should be made aware of the changes you are experiencing, in order to develop the best strategy for protecting your legal right to compensation. 
Don't Neglect Your Overall Health
It is important to remember that chronic health conditions (such as diabetes or high blood pressure) do not take a break during a pandemic. These conditions must be monitored and treated to make sure they remain controlled.
When Superstorm Sandy passed through Manhattan, the local Veterans Affairs facility was forced to close temporarily. CNN reports that, two years later, veterans being treated at the facility had higher blood pressure than they did before the storm. 
You might not be able to see your doctor as frequently during the pandemic or receive the same treatment as you would in person.
However, it is still possible to manage long-term conditions during the current "stay at home" orders. Have virtual appointments with your doctor via Facetime or Skype. Continue to monitor your condition and alert your doctor to any changes. 
Experienced Personal Injury Lawyers For All California Cases
Even during the COVID-19 outbreak, it is important for injury victims to receive treatment as much as possible. This will prevent aggravating your injuries, and also prevent the defense from claiming that you made your own injuries worse. The experienced personal injury lawyers at Arash Law can help you protect your legal rights in these uncertain times. We have over twenty years of experience. We have collected over 200 million dollars for clients in San Francisco, Riverside, San Jose, San Diego, Sacramento, Sherman Oaks, and throughout California. Call (888) 488-1391 today to schedule your free consultation with an experienced California injury lawyer.