One unidentified person was killed after a two-vehicle crash in Jurupa Valley on Sunday afternoon, January 24.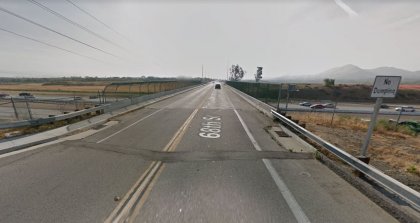 The deadly accident took place in the southbound lanes of Interstate 15, just south of 68th Street in Jurupa Valley, at approximately 10:50 p.m. A Ford F-350 was initially driving on Interstate 15 when, for unclear reasons, suddenly drifted into the path of a Ford Mustang in the No. 2 lanes. The Ford F-350 struck the Mustang's driver's side.
Due to the severity of the impact, the Mustang spun out of control and veered into a dirt embankment. It then later crashed into a freeway signpost and got split in half.
The driver of the Mustang was, unfortunately, pronounced dead at the scene. The identity of the Mustang driver has not been disclosed. The Ford F-350 driver was uninjured from the accident.
Local authorities are actively investigating the case. They will attempt to determine the factors that affected the accident. Witnesses that can give more information about the collision are urged to call the CHP's Riverside office at 951-637-8000.
Two-Vehicle Collision Statistics
The number of victims of motor vehicle-related accidents in the U.S. has increased immensely throughout the years. The National Safety Council (NSC) reports that an estimated 38,000 people were killed in U.S. motor vehicle accidents in 2019.
The California Office of Traffic Safety (OTS) reports that there were 3,563 car accident fatalities throughout the state in 2018 alone. Thousands of people must deal with grief and sudden loss in the wake of California's deadly accidents. Car accidents are sometimes life-altering and traumatic. Because of how universal cars are to our lives, drivers often forget just how dangerous they can become and that severe and even deadly car crashes can occur.
If you recently lost a loved one in a motor vehicle accident, you are familiar with this. You might wonder how you will ever be able to live your everyday life again. It will take time, and there are no quick fixes, but you can learn to cope and rebuild your life. One step that many families find helpful after losing a loved one in a car accident is meeting with a compassionate fatal car accident attorney.
Wrongful Death Claim for Victims of Fatal Car Accidents in Riverside County
While waiting for the official investigation results, the victim is encouraged to pursue a wrongful death claim with her attorney's help. The liable party will be required by law to provide financial compensation for the victim's medical expenses, lost earnings, emotional trauma, and pain and suffering.
If you lost a loved one or sustained a severe injury in a car crash because of another driver's carelessness and negligence, you have a legal right to hold that driver accountable for their actions. A fatal car accident attorney can't turn back the clock to make things the way they were before the car accident. However, we can help you obtain compensation for the awful, unexpected losses the crash caused in your life.

A wrongful death car accident lawsuit can also help pay for the high medical expenses and other costs incurred due to the crash. It can also help provide financial support for those who have lost income because of an injury or an unforeseen death. Legal action might also help prevent a similar tragedy from happening to other families. Sometimes a personal injury lawsuit is the only way to hold offenders and big companies liable for actions that put consumers at risk. Arash Law has a proven history of success in auto-accident and wrongful death cases, including a $1.5 billion verdict for a church volunteer's family killed by a distracted driver.
Call Arash Law today at (888) 488-1391 or contact us online to schedule your free no-obligation fatal car accident case review.