A 55-year-old man identified as James M. was killed after a fatal motorcycle accident on 91 Freeway on early Sunday morning, May 16.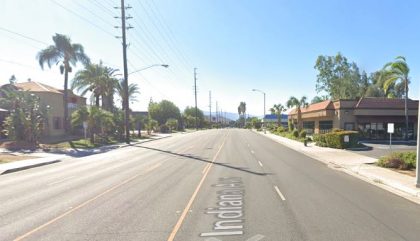 The accident transpired at approximately 2:08 a.m. at the intersection of Indiana Avenue and eastbound 91 Freeway Onramp.
The victim was riding his motorcycle on Van Buren Boulevard approaching the 91 Freeway when he was suddenly rear-ended by a pickup truck.
Due to the severity of the impact, the rider was ejected from his motorcycle onto the roadway. He sustained fatal injuries and was pronounced dead at the scene.
The pickup truck driver was later identified as 52-year-old Gordon Richard L. Authorities confirmed that he was driving while under the influence of alcohol at the time of the accident.
The suspect was booked into the Robert P. Detention Center in Riverside on suspicion of gross vehicular manslaughter, DUI, and DUI resulting in injury.
The accident is currently under further investigation. Witnesses that can provide additional information about the accident are urged to contact Riverside Police Traffic Detective R. McHugh at (951) 826-8720 or rmchugh@riversideca.gov.

Fatal Motorcycle Accident Statistics
Motorcycle accidents are terrible tragedies that almost always harm the motorcyclist more than the other party involved. Motorcyclists are highly vulnerable in collisions and can easily sustain catastrophic and fatal injuries.
According to the National Highway Traffic Safety Administration's National Center for Statistics and Analysis, approximately 5,286 motorcyclists were killed in the U.S. in 2016.
Motorcycle riders are encouraged to dress appropriately and wear a helmet every time they ride their motorcycle to prevent fatal injuries. Wearing helmets were estimated to be 37% effective in preventing motorcycle deaths.
Some of the common causes of motorcycle accidents are distracted driving, speeding, drunk driving, reckless driving, bad weather, wrong-way driving, and failure to observe traffic laws.
Wrongful Death Attorney for Victims of Fatal Motorcycle Accidents in Riverside County
Losing a loved one due to a fatal motorcycle accident can be quite devastating. While the victim's family is filled with grief and sorrow, it's highly recommended that they seek assistance from an experienced wrongful death attorney.
You shouldn't have to be confused or overwhelmed with wrongful death laws during this emotionally difficult time. An attorney can serve as a compassionate legal guide for the victim's family during this difficult time.
Our team from Arash Law understands how devastating a life cut short can be and want to extend our legal experience to aid you and your family during this difficult time. We want to help you file a wrongful death claim. We've helped thousands of people recover after accidents similar to yours. Our mission is to protect crash victims' rights and assist them in negotiations with large insurance companies that don't have their best interests at heart. You have nothing to lose in contacting us.
We offer free consultations with no obligation to retain our firm. We also work on a contingency fee basis, meaning you don't pay a dime unless we win you compensation. Get in touch online or call (888) 488-1391