One unidentified person was hurt after a two-vehicle traffic collision in Palm Springs on Thursday morning, September 2.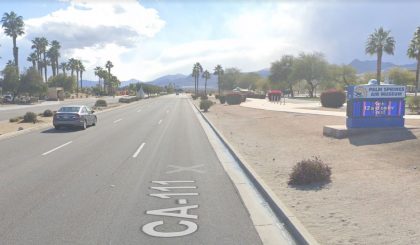 The accident occurred at approximately 6:00 a.m. at Gene Autry Trail and Tamarisk Road in Palm Springs.
Two vehicles collided on the roadway under unclear circumstances. How the crash occurred, and the reason it happened has not been established.
One person was seriously hurt as a result of the mishap. They were immediately taken to an area hospital for treatment.
Additional information about the collision is unavailable at the moment. The identities of the involved parties have not been disclosed.
It's unclear whether drugs or alcohol played a role in the crash. Local authorities are further investigating the case.

Two-Vehicle Crash Statistics
Car accidents are the leading cause of death for those aged 2 to 34 in the United States, and they are one of the most common causes of serious injury for people of all ages. Even the most cautious drivers can be involved in unforeseen circumstances that might result in injury or death.
The National Highway Traffic Safety Administration estimates that 5 to 6 million car accidents occur in the United States each year. According to the Center for Disease Control, almost three million people in the United States are wounded in car accidents each year.
Reckless driving, distracted driving, speeding, drunk driving, and mechanical failure are just some of the most common reasons car accidents happen.
Riverside County Personal Injury Attorney for Victims of Two-Vehicle Collisions
If you've been injured in a car accident, you'll need the help of an expert California accident lawyer. The insurance company for the other driver is not on your side. Their job is to pay you the least amount of money possible.
Insurance firms frequently encourage their victims to quickly accept the settlement, even if the claim is worth more. They would try to minimize compensation while ignoring the long-term effects and suffering that a victim would suffer.
You will need an expert attorney by your side to avoid this from happening. Your attorney can give you an accurate estimate of how much your claim is worth. They can also communicate with insurance companies on your behalf as they are familiar with their manipulation tactics.
Speak with our attorneys if you have suffered burn injury, broken bones, a brain injury, a spinal cord injury, or other damages. Arash Law's attorneys know what to do to assist you with your claim. Don't delay and call us today at (888) 488-1391 for a free initial consultation.