One person killed after a fatal multi-vehicle traffic collision in Temecula on Thursday afternoon, April 22.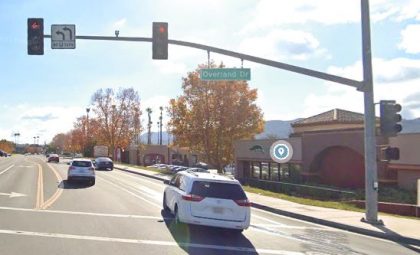 The deadly collision happened at approximately 12:03 p.m. on the southbound lanes of Interstate 15, between Rancho California Road and the Overland Driver overcrossing.
A 47-year-old man identified as Kevin M. was driving his Hino Bobtail box truck hauling furniture at an unspecified speed when he failed to notice the stopped traffic ahead.
The box truck then struck a Toyota Prius. The Prius was then pinned between the Hino and a big rig following the collision.
Both the Prius and the box truck caught fire which was immediately extinguished by firefighters. The Prius driver was fatally injured from the accident and was later pronounced dead at the scene.
The box truck driver sustained moderate injuries and was taken to Inland Valley Medical Center. Local authorities then later took him into custody on suspicion of driving under the influence. Local authorities are further investigating the accident.

Fatal Multi-Vehicle Collision Statistics
Car accidents happen every day on U.S. roadways. These accidents can be life-altering and traumatic. Because of how universal cars are to our lives, drivers often forget just how dangerous they can become and that severe and even deadly car crashes can occur.
According to the United States Department of Transportation's Fatality Analysis Reporting System (FARS), there were 33,654 fatal vehicle crashes in 2018, which caused 36,560 deaths. Multi-vehicle collisions are just one type of car accident. This type of accident usually occurs when three or more cars are involved in the accident. They commonly stem from a "chain-reaction" crash, wherein one vehicle will bump into another, causing it to crash into other cars on the roadway potentially.
Fatal motor vehicle accident victims can be of any age. They are often following the law and are usually wearing their seatbelts for safety. Several hundred pedestrians are also hit and killed by cars every year in California. No matter the cause of your loved one's deadly wreck, a fatal car accident lawyer can offer you invaluable direction about what to do next.
Riverside County Wrongful Death Attorney for Victims of Fatal Multi-Vehicle Collisions
Losing a loved one from a fatal multi-vehicle collision can be quite devastating and painful for the victim's family. Facing cases like this can be complicated, which is why seeking the assistance of an experienced attorney is essential.
If someone you love died in a car crash, you must act quickly in reaching out to an experienced fatal car accident attorney. The insurance company for the person who caused the accident will begin their investigation of the accident as soon as possible. They take their claims very seriously. You should take yours seriously as well. One step that many families find helpful after losing a loved one in a car accident is meeting with a compassionate fatal car accident attorney.
Arash Law is an Elite Injury Law Firm in California You Can Trust. We are a law firm that is highly focused on vehicle accidents and all forms of personal injury. Our success record in helping the victims of dog bites, motorcycle accidents, and car crashes is unparalleled. Our mission is to get you the largest settlement possible for your legal case. Call us at (888) 488-1391 today and speak directly with an attorney. Consultations are always completely free!