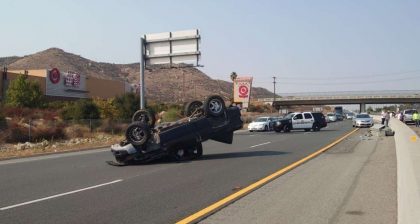 Injuries were reported after a multi-vehicle traffic collision in Murrieta on Wednesday, September 16.
According to the California Highway Patrol's initial reports, the crash happened around 3:00 p.m. on southbound Interstate 215 at Clinton Keith Road. A total of four vehicles were involved in the collision. An SUV, a pickup truck, and two other cars crashed into each other on the southbound lanes of Interstate 215 at Clinton Keith Road.
The pickup truck rolled over due to the severity of the impact. Several people were injured as a result of the collision. The total number of injured victims is currently unclear.
Multi-Vehicle Collision Investigation is Underway
Local authorities are currently investigating the cause of the collision. When three or more cars collide on the roadway, it is considered a multi-vehicle collision. This type of car accident is commonly caused by a "chain reaction," when one car bumps into another, which causes the other to hit the next vehicle.
Multi-vehicle collisions are commonly caused by drunk driving, speeding, and distracted driving. It can be quite challenging to pinpoint liability during a multi-vehicle collision investigation, so it is essential to hire an experienced Riverside County personal injury attorney to conduct an independent investigation. Attorneys can re-interview important witnesses, review relevant surveillance footage from the scene, and obtain the responsible party's phone and texting records.
Personal Injury Attorney for Victims of Multi-Vehicle Collisions in Murrieta County
Dealing with severe injuries from a multi-vehicle accident can be overwhelming as it can affect all aspects of life, such as family, work, and finances. While the official investigation is on-going, the victim is entitled to pursue a personal injury lawsuit. When filing a personal injury claim, the victim needs to have an experienced California personal injury attorney by his side. Personal injury attorneys can negotiate with insurance companies on behalf of their clients while ensuring that their clients are compensated fairly.

The dedicated legal team at Arash Law in California has the experience, skill, and compassion to help guide your claim toward its best possible resolution. Your rights and continuing recovery are far too necessary to leave to chance – or the insurance company involved. We have locations conveniently found throughout California with offices in Los Angeles, Sacramento, San Francisco, Riverside, Orange County, San Jose, and San Diego. But we are more than happy to meet with you at your home, office, or anyplace else in the state of C.A. We're here to help you 24 hours a day and seven days a week – whenever you need us – so to find semi-truck accident lawyers near me, Call (888) 488-1391 today.