A 19-year-old Beaumont resident was killed while another person was injured due to a two-vehicle crash in Cherry Valley on Thursday evening, November 5.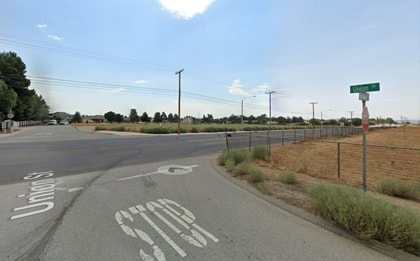 The fatal crash transpired at the intersection of Brookside Avenue and Union Street at approximately 6:00 p.m. The unidentified teenager was driving a Ford Mustang westbound on Brookside Avenue approaching Union Street when a Chevrolet Silverado pickup suddenly crashed into his vehicle.
The Chevrolet reportedly yielded at the stop sign on southbound Union, even though there is no corresponding stop for east-west traffic on Brookside. The Chevrolet then accelerated through the intersection where the Ford was.
The Ford driver attempted to avoid the Chevrolet but could not, causing the two cars to collide. The Chevrolet driver was identified as a 39-year-old man from Beaumont.
The Ford driver lost control of his vehicle and hit a utility pole after colliding with the Chevrolet.
The 19-year-old Ford driver was pronounced dead at the scene. A 41-year-old woman who was a passenger of the Chevrolet complained of minor injuries. She was taken to San Gorgonio Memorial Hospital for treatment.
Fatal Two-Vehicle Collision Investigation is Underway
The California Highway Patrol is currently investigating the case. They will attempt to determine the factors that affected the crash and liability.
Car accidents are one of the leading factors of injury deaths in California. According to the National Highway Traffic Safety Administration (NHTSA), over 3,304 recorded fatal car accidents in California in 2017.
When facing cases like this, it's vital to have an experienced Riverside County wrongful death attorney specializing in fatal car accidents to conduct an independent investigation. Attorneys are capable of assisting their clients throughout the process. They will also re-interview important witnesses, review relevant surveillance footage from the scene, and obtain the responsible party's phone and texting records.
Wrongful Death Attorney for Victims of Fatal Two-Vehicle Collisions in Riverside County 
It can be quite devastating and stressful to suddenly lose a loved one due to a fatal two-vehicle collision.
Pending the official investigation results, the victim's family is entitled to pursue a wrongful death claim with their attorney's help. Attorneys can help their clients receive financial compensation for their medical bills, funeral expenses, pain and suffering of the victim's family, wages the decedent would have earned in their lifetime, and loss of companionship.
Attorneys can also serve as a helpful legal guide for the victims during this difficult time. They will vigorously fight for their client's rights and best interests while ensuring that the liable party will be held accountable for their negligence.

If you have a nagging suspicion that someone is to blame for your spouse or family member's death, contact Arash Law. We have the resources you need to pursue justice for wrongful death and the experience to ensure fair compensation. We're conveniently located throughout California, with offices in Los Angeles, Sacramento, San Francisco, Riverside, Orange County, and San Diego, and are happy to visit you. Call (888) 488-1391 for a FREE Consultation with a wrongful death attorney in California.