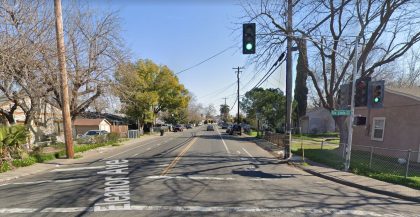 A hit-and-run accident in North Sacramento injured at least two pedestrians on Wednesday, September 23.
According to the initial reports from local authorities, the accident happened at around 7:30 p.m. at the intersection of Rio Linda Boulevard and Eleanor Avenue. Two pedestrians, one adult and one minor were hit by a vehicle at the North Sacramento intersection.
The reason why the vehicle struck the two pedestrians have not been established. The driver fled the scene and did not stop to help the victims. The two victims were rushed to a nearby hospital with non-life-threatening injuries.
Hit-and-Run Accident Investigation is Underway
Local authorities are currently investigating the accident. It is apparent in this case that the liability falls on the hit-and-run driver for leaving the victim wounded and fleeing the scene. The suspect will most likely face criminal charges once caught.
Unfortunately, around one in five pedestrian accidents are caused by hit-and-run drivers. Sixty percent of people killed in hit-and-run accidents are pedestrians. Common reasons why hit-and-run drivers flee the scene are intoxication, driving without a license, and fear of getting arrested if they remained.
When facing cases like this, it's essential to have an experienced Sacramento County personal injury attorney specializing in hit-and-run accidents to conduct an independent investigation to preserve the evidence better immediately. During the investigation, attorneys need to consider and thoroughly examine all the possible contributing factors of a hit-and-run accident such as road conditions, signage visibility, and road lighting.
Sacramento Personal Injury Attorney for Victims of Hit-and-Run Accidents
Attaining significant injuries after a hit and run accident can be overwhelming and can potentially disrupt all aspects of life, such as family and finances. While waiting for the official investigation results, the victim has the right to pursue a personal injury lawsuit with their injury attorney's help.
Attorneys can help the victim serve as a helpful legal guide while negotiating with insurance companies on their behalf. Attorneys will also ensure that the victim will get the monetary compensation and justice that they deserve while also ensuring that the negligent driver will be held accountable for his actions.

If you have a nagging suspicion that someone is to blame for your spouse or family member's death or injury, contact Arash Law. We have the resources you need to pursue justice and the experience to ensure that you get fair compensation. We're conveniently located throughout California, with offices in Los Angeles, Sacramento, San Francisco, Riverside, Orange County, and San Diego. We are more than happy to visit you at your home or office—call (888) 488-1391 for a Free Consultation with a California personal injury attorney.