At least four people were hurt after a traffic collision involving two vehicles in Downtown Sacramento on Tuesday morning, July 21st.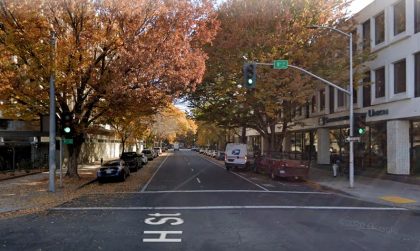 According to the initial reports from local authorities, the accident took place near 8th and H Streets at around 9:00 a.m. An SUV and a pickup truck collided on the roadway under unclear circumstances. How the accident occurred, and the reason it happened has not been established.
At least four people were hurt in the mishap. Two people sustained moderate injuries, while the other two sustained minor injuries. Three of the injured parties were brought to an area hospital for treatment.
The identities of the involved parties have not been disclosed. Additional details about the accident are unavailable at the moment. Local authorities are further investigating the case.

Two-Vehicle Collision Statistics
Car accidents can occur anytime, anywhere. Every sixty seconds, at least one car accident occurs somewhere in the U.S. With hundreds of thousands of drivers navigating the road every day, it's inevitable for accidents to occur. Motor vehicle accidents are the leading cause of personal injury in the United States. Every year, nearly 2 million people are injured in car accidents.
According to the United States Department of Transportation's Fatality Analysis Reporting System (FARS), 33,654 fatal vehicle crashes in 2018 caused 36,560 deaths. California is known for having some of the country's busiest and congested highways. With so many vehicles on the road, there will undoubtedly be traffic congestion, gridlock, and (most importantly) car accidents – both fatal and serious injury accidents.
Car accidents are one of the leading factors of injury deaths in California. According to the National Highway Traffic Safety Administration (NHTSA), over 3,304 recorded fatal car accidents in California in 2017.
Personal Injury Attorney for Victims of Two-Vehicle Collisions in Sacramento County
No matter how careful you are on the road, there is still a possibility that you may get involved in a car accident. It's hard to predict whether an irresponsible motorist is driving on the same roadway as you. If you have been injured due to another driver's negligence, you have the legal right to hold them accountable for the damages.
Regardless of how significant your damages or injuries are, it's best to seek advice from an experienced attorney after an accident. Our attorneys from Arash Law can serve as a helpful legal guide during this stressful time.
Arash Law's attorneys are familiar with the most common causes, defendants, and how to pursue compensation for collision-related injuries. We have successfully represented injured clients for over two decades. The road to recovery is just a phone call away! Don't hesitate to call our personal injury attorneys from Arash Law now. Dial (888) 488-1391 for a free initial consultation.