An unidentified 56-year-old man was killed after a fatal head-on traffic collision in North Highlands on Friday afternoon, Octob0er 2.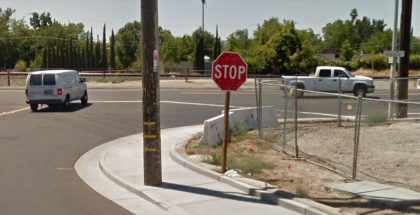 The crash occurred at approximately 12:30 p.m. on Roseville Road, north of Palm Avenue.  The victim was driving a van heading southbound just north of Watt Avenue at an unknown speed. It then suddenly drifted onto the right shoulder for unknown reasons before turning back across the road, driving directly into the path of a northbound gray Ford Escape on Roseville. The two vehicles crashed into each other head-on.

After colliding with the Ford, the vehicle overturned and continued driving into a nearby parking lot where it hit two unoccupied vehicles.  The driver of the van was pronounced dead at the scene. The reason why he lost control of his vehicle is currently unknown. The Ford driver suffered serious injuries as a result of the accident.
Fatal Head-On Collision Investigation is Underway
Local authorities are currently investigating the fatal accident. They will try to look into the factors that may have caused the collision to occur. Although head-on collisions only represent 2 percent of accidents, they account for 10 percent of fatalities on U.S. roadways.
Head-on collisions commonly occur in a traffic light, stop sign, or blind intersections and on freeways. Head-on crashes at intersections happen when drivers disregard traffic laws and signals, such as red lights, stop signs, or yield signs. Freeway head-on collisions usually occur when drivers enter the wrong way on on-ramps or off-ramps, sometimes due to intoxication or drug use.
Head-on collisions mainly occur when drivers are distracted or are experiencing over-fatigue. When facing a case like this, it's essential to have a Sacramento County personal injury attorney specializing in fatal head-on collision crash cases to conduct an independent investigation. Attorneys have the resources to help the victim's family to receive the justice that they deserve. They can re-interview important witnesses, review any related surveillance footage from the crash scene, and obtain phone and texting records of the liable party.
Sacramento County Personal Injury Attorney for Victims of Fatal Head-On Collisions
Sustaining significant injuries after a head-on collision can be overwhelming and can potentially disrupt all aspects of life, such as family, work, and finances. While the investigation is on-going, the victim is entitled to pursue a personal injury lawsuit with an experienced California personal injury attorney. Attorneys can serve as a helpful legal guide for the victim while ensuring that their rights and best interests are protected. They will also ensure that the guilty party will be held accountable for their crimes.
Our years of experience make us uncommonly aware of how a car accident can change your life. Not knowing where to turn post-accident is common, but you should look for a qualified Sacramento car accident lawyer as soon as possible. Finding someone committed to fighting for you can go a long way towards reducing the anxiety and sadness you feel in the wake of an accident.

If you believe you have grounds to file a claim, retain a local car accident attorney in California near you who can help you navigate car accident laws. Arash Law has decades of experience throughout California and has secured million-dollar settlements and verdicts for our clients. Our car accident team can investigate your crash, identify the potential defendant(s), and file your claim with the civil court system as quickly as possible. Don't delay – you're just a phone call away from learning your legal options.