An unidentified homeless man was injured after getting hit by a passing vehicle in Stockton on Wednesday night, January 27.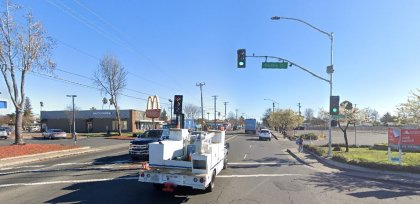 The accident transpired at approximately 8:00 p.m. in the 5200 block of Stockton Boulevard near Fruitridge Road. An unspecified vehicle reportedly crashed into a vacant storefront and hit the homeless man sitting against the building.
The homeless man sustained life-threatening injuries from the crash. He was rushed to a local hospital for treatment. The driver that struck the homeless man was uninjured. He remained at the scene and cooperated with local authorities.
The case is currently under investigation.

Pedestrian Accident Statistics
Pedestrians are more vulnerable to the dangers of the roadway compared to passengers of private vehicles. Unlike passengers of private cars with airbags and seat belts to protect them, pedestrians do not have any protection that can help them avoid sustaining fatal injuries.
According to the Governors Highway Safety Association, approximately 6,227 pedestrians were killed in the U.S. back in 2018, a 250 increase from the previous year.
Pedestrian accidents often lead to severe injuries and even death to those who are unlucky enough to be involved in such an accident.
Common injuries resulting from pedestrian accidents are head trauma like concussions or brain bleeds, traumatic brain injuries, and many other debilitating injuries. Many pedestrian accident injuries can result in either functional impairments or long-term conditions. Annually, around 137,000 are treated in emergency rooms for various types of injuries.
Personal Injury Attorney for Victims of Pedestrian Accidents in Stockton
When facing cases like this, it's vital to have a skillful attorney on your side to file a personal injury claim on your behalf.
As experienced California pedestrian accident attorneys, we at Arash Law know how to obtain the maximum compensation available under California law for injuries and deaths to pedestrians that have been caused by negligent drivers, truck drivers, bicyclists, or motorcyclists. Pedestrians are uniquely vulnerable to being injured as compared with those in motor vehicles or even on bikes, a fact that is unfortunately particularly true in California.
Arash Law's experienced personal injury lawyers have extensive expertise and knowledge representing California pedestrians who have been injured or killed in pedestrian accident cases. We have an intimate understanding of the law that applies in such circumstances. We take the time to get to know our clients and their cases in intimate detail, enabling us to obtain the most favorable settlements or jury verdicts possible for our clients.
Call (888) 488-1391 for a FREE Consultation with a Pedestrian Accident Lawyer in California