Two people were hurt due to a two-vehicle traffic collision in Rosemont on Tuesday night, January 12.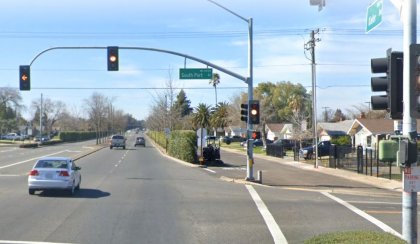 The accident took place on the westbound lanes of Kiefer Boulevard at Sport Drive in Rosemont at around 8:51 p.m. A blue Toyota sedan and a silver van crashed at the intersection under unclear circumstances.
One person was trapped in the wreckage as a result of the crash. They were extricated by emergency personnel.
Two people were injured in the accident. One patient complained of pain in the back and was taken to Kaiser Medical Center. The other patient suffered from a possible concussion and was rushed to UC Davis Medical Center for treatment.
Additional information about the accident is unavailable at the moment.
Car Accident Statistics
Car accidents are one of the leading factors of injury deaths in California. According to the National Highway Traffic Safety Administration (NHTSA), over 3,304 recorded fatal car accidents in California in 2017.
These accidents are caused by various reasons, such as distracted driving, drunk driving, and driver over-fatigue. Facing cases like this alone can be quite challenging. With the help of an experienced Sacramento County personal injury attorney, the victims won't need to deal with the stressful paperwork that comes with filing a claim.
While it's technically possible to represent yourself in a car accident case, it is not the wisest course of action. Self-representation can put you at risk of making mistakes and missing your opportunity to recover for your damages. Negotiating with insurance claims adjusters is difficult, and the stakes can be high. Protect your rights and your future by retaining an attorney to settle your case or take it to trial if need be
Personal Injury Attorney for Victims of Car Accidents in Sacramento County
While waiting for the official investigation results, the victim is encouraged to pursue a personal injury claim with his attorney's help. The victims are entitled to seek financial compensation for the medical expenses, lost earnings, emotional trauma, and pain and suffering that the accident has caused them through the personal injury claim.
If you believe you have grounds to file a claim, retain a local car accident attorney in California near you who can help you navigate car accident laws. Arash Law has decades of experience throughout California and has secured million-dollar settlements and verdicts for our clients. Our car accident team can investigate your crash, identify the potential defendant(s), and file your claim with the civil court system as quickly as possible. Don't delay – you're just a phone call away from learning your legal options.

We're conveniently located throughout California, with offices in Los Angeles, Sacramento, San Francisco, Riverside, Orange County, and San Diego, and are happy to visit you at your home or office. Call (888) 488-1391 for a FREE Consultation with a personal injury attorney in California.