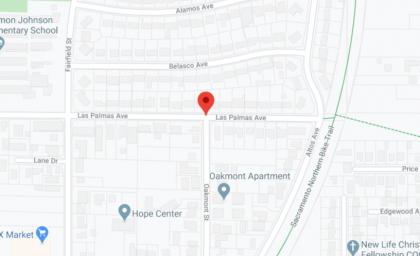 Rangel, 46, was struck near Rio Linda Boulevard and Las Palmas Avenue in Sacramento.
A man named Alejandro Rangel was hit by a vehicle which ultimately killed him. The accident happened last February 10 in Sacramento, California.
The victim was struck by the vehicle at around 6:00 p.m. between Rio Linda Boulevard and Las Palmas Avenue. Rangel was announced dead on arrival after being rushed to a local hospital. He was 46 years old. 
The Sacramento Police Department is currently investigating the accident. It is unclear whether Rangel was walking in a crosswalk when he was hit, but fortunately, the driver that struck him stood by at the scene and cooperated with the authorities. 
Fatal Pedestrian Crash Investigation in Sacramento
The CHP will do their best to determine the cause of the collision during their investigation. 
There has been an alarming increase in pedestrian-related deaths in the U.S., at a whopping 41 percent increase since 2008, and now account for the 16 percent of all traffic fatalities. Pedestrian accidents are definitely on the rise as the number of pedestrian fatalities reached an all-time high just last year, which was the highest it's ever been since 1990.
But why has there been such a vast increase in pedestrian-related cases lately? This increase in pedestrian-related accidents can be attributed to the rise of technology. Instead of shifting their focus on the road, drivers nowadays are easily distracted by their smartphones, which makes them prone to crashing into pedestrians. 
Cases like this require the assistance of a professional lawyer to conduct an independent probe. The independent investigation is done to ensure the rights of the victim's family isn't trampled over. 
For the investigation process to work seamlessly, it is essential to have the proper resources to prove the driver's negligence. Contributing factors like road conditions, signage visibility, and road lighting must be thoroughly examined. 
It is the driver's responsibility to look out for pedestrians regardless of whether a pedestrian is crossing a marked crosswalk or not, as they always possess the "right of way".
California Wrongful Death Attorneys Can Help
Rangel's family is entitled to a personal injury claim. They have the right to ask for compensation for the damages the driver cost him, such as medical expenses, lost wages, pain and suffering, and emotional distress. 
Victims of these accidents may undergo extreme stress and pain, which is why it is crucial to have their rights protected. A seasoned attorney will make the process more comfortable as they will always stay updated with the progress of the official investigation and make sure that the legal rights and best interests of their clients are prioritized.