One unidentified person was killed after a deadly multi-vehicle collision in Hollister on Saturday evening, August 21.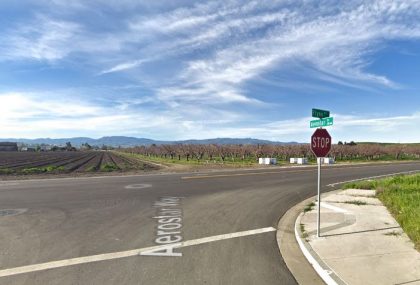 The fatal collision transpired at approximately 6:51 p.m. in the southbound lanes of Highway 25, near Flynn Road in Hollister.
Three vehicles were involved in the collision. A northbound Mazda 3 pulled to the shoulder to make a U-turn. Meanwhile, a silver Chevrolet Tahoe that was also traveling northbound broadsided the Mazda 3.
Due to the severity of the impact, the Mazda 3 veered into the southbound lanes and collided head-on with an oncoming white Honda Accord.
At least one person was killed in the accident, while six others were injured. The identities of the involved parties have not been disclosed. The California Highway Patrol is currently investigating the cause of the collision.

Fatal Multi-Vehicle Collision Statistics
When three or more vehicles collide on the road, this is considered a multi-vehicle collision. They are frequently caused by a "chain-reaction" crash, in which one vehicle collides with another, potentially causing it to collide with additional cars on the road. Traffic collisions can be life-changing and catastrophic. Drivers usually fail to recognize how dangerous automobiles can become and how easily severe and even fatal car accidents can occur because they have become so common in our lives.
Millions of people are injured every year, and tens of thousands of drivers and passengers are killed in car accidents on American highways. According to the United States Department of Transportation's Fatality Analysis Reporting System (FARS), 33,654 fatal automobile crashes occurred in 2018, resulting in 36,560 deaths. In this case, the collision started because the Chevrolet Tahoe broadsided the Mazda 3. Broadside crashes, or sometimes referred to as "T-bone collisions," occur when a car is hit on the side by the front or rear of another motor vehicle.
Broadside accidents can often result in life-threatening injuries. The best way to avoid this type of accident is to be vigilant behind the wheel. Human error is the most common cause of T-bone accidents, and if drivers keep their attention on the road, it can significantly decrease their chances of getting involved in a broadside collision.
San Benito County Wrongful Death Attorney for Victims of Fatal Multi-Vehicle Collisions
If a loved one was killed in an automobile accident, you must call an experienced fatal car accident attorney as soon as possible. As soon as possible, the insurance company will initiate an investigation. They take their allegations very seriously. You should take yours seriously as well.
Attorneys can pursue a wrongful death claim on your behalf, negotiate with insurance companies on your behalf, and ensure that you receive the money you are entitled to. Attorneys can assist their clients in obtaining financial compensation for medical bills, burial costs, the victim's family's pain and suffering, money the dead would have earned during their lifetime, and loss of companionship.
A fatal car accident attorney from our office can handle the legal issues for you. Our attorneys will assess the circumstances of your accident from all angles. They will determine who is liable and what insurance policies there might be to draw from so that you can receive full and fair compensation for your damages. Call Arash Law today at (888) 488-1391 or contact us online to schedule your free no-obligation fatal car accident case review.