A 28-year-old Hesperia man was killed after a deadly multi-vehicle traffic collision in Apple Valley on early Tuesday morning, October 12.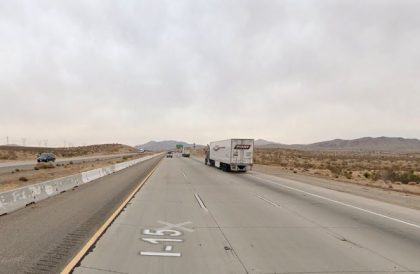 The fatal accident transpired at approximately 2:49 a.m. on Interstate 15 near Wild Wash Road in Apple Valley. The Hesperia man was driving a 2019 Nissan at high speeds on the southbound lanes of Interstate 15 when he lost control and overturned south of Wild Wash Road.
His Nissan was then struck by a southbound 2014 Toyota, which caused the Nissan to be pushed into the path of a southbound 2019 Infiniti. The unidentified Nissan driver was fatally injured in the crash. He was unfortunately pronounced dead at the scene.
The Toyota driver was treated at the scene for minor injuries while the Infiniti driver sustained moderate injuries and was taken to Barstow Community Hospital for treatment. Information about the accident is limited at the moment. Alcohol and drugs were not considered factors in the crash. The California Highway Patrol is further investigating the case.

Fatal Multi-Vehicle Collision Statistics
Getting into a car accident can leave you with serious, even permanent, injuries. Every driver should drive cautiously to avoid this situation. Unfortunately, car accidents have become far too common in the United States. According to the Fatality Analysis System (FARS) of the United States Department of Transport, 33,654 fatal car crashes occurred in 2018, resulting in 36,560 deaths.
There are several ways how traffic collisions occur. In this case, a multi-vehicle collision happened. When three or more vehicles are involved in a traffic crash, it's considered a multi-vehicle collision. A chain-reaction collision usually causes this type of accident, wherein one vehicle crashes into another, leading to the other vehicle possibly colliding with another car on the road.
Inattentive drivers are to blame for a large number of fatal collisions that occur on the roads. According to the National Highway Traffic Safety Administration, there were nine fatal car accidents in the city in 2019 (NHTSA).
San Bernardino County Wrongful Death Attorney for Victims of Fatal Multi-Vehicle Collisions
Arash Law's Apple Valley car accident attorneys have seen countless people injured or killed in car accidents over the years. Victims and their families may feel helpless in the face of such a situation. People who don't follow the rules inflict harm or even death on their victims. Every car accident is different, and you'll need attorneys with the right mix of experience and skill to handle your case effectively and get you the compensation you deserve.
Our accident lawyers have handled a wide range of auto accident cases and have a wealth of knowledge to draw on. You can enlist the help of an attorney to resolve insurance disputes and collect any money that's due to you. Medical bills, funeral costs, pain and suffering for the victim's family members, and lost future income can all be recovered with the help of an attorney.
Assisting people who have been injured in car accidents is one of the many services that our Arash Law accident attorneys provide. Our lawyers will thoroughly investigate your car accident on our behalf. Dial (888) 488-1391, or send us an email to get started on your free case evaluation.