One driver was seriously injured after a traffic collision involving a big rig in Victorville on Monday afternoon, August 9.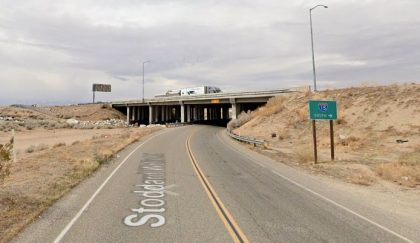 The accident took place at the intersection of Stoddard Wells Road and the northbound Interstate 15 exit in Victorville. A white 2021 Hyundai Sonata and a 2014 International Transtar 8600 were involved in the collision. The sedan went completely underneath the trailer after the collision.
The Hyundai driver was trapped in the wreckage and was extricated by emergency personnel. He sustained serious injuries in the mishap and was airlifted to Arrowhead Regional Medical Center.
It's unclear whether drugs or alcohol were a factor in the collision. The identities of the involved parties have not been disclosed. A further investigation of the accident is currently underway.

Major Big Rig Accident Statistics
The thriving trucking industry is critical to our nation's economy. As consumer demand continues to grow, the trucking industry struggles to keep up. However, there are tens of thousands of injury-causing semi accidents in the United States every year, and thousands of these accidents end in traffic fatalities.
In 2016, there were approximately 475,000 traffic accidents involving large commercial trucks, and out of these, there were 3,864 crashes that led to fatalities and 104,000 injury-causing crashes.
These accidents are often deadly because of the immense difference between tractor-trailers and other vehicles on the roadway. A fully loaded big rig requires up to 40% more stopping distance. Tractor-trailer accidents are caused by various factors like loss of control of the truck, a tire blowout, a disabling or non-disabling vehicle failure, excessive speed, lane drifting, improper truck maneuvering, and driver fatigue.
San Bernardino County Personal Injury Attorney for Victims of Major Big Rig Collisions
The great State of California has some of the most beautiful and expansive highways in our nation, but they also see some of our nation's deadliest truck accidents. Because truck accidents are among the most violent traffic accidents out there, the emotional impact alone can be extremely daunting. Fortunately, you don't have to face the path ahead of you alone.
While you attend to the important work of recovering your health, your dedicated California truck accident attorney will gather the necessary evidence, communicate with the insurance company on your behalf, and fight for the compensation that will adequately cover the damages you've sustained – in their entirety. If you or your loved one has been injured in a truck accident, it's time to consult with a skilled California 18-wheeler accident attorney.
At Arash Law, our dedicated legal team has the experience, knowledge, and commitment to aggressively advocate for the compensation you are entitled to and that you need to recover. We're conveniently located throughout California, with offices in Los Angeles, Sacramento, San Francisco, Riverside, Orange County, and San Diego, and we are happy to visit you. Call (888) 488-1391 for a FREE Consultation with a personal injury attorney in California.