A 57-year-old man was killed after a deadly head-on collision in Apple Valley on Wednesday evening, June 30.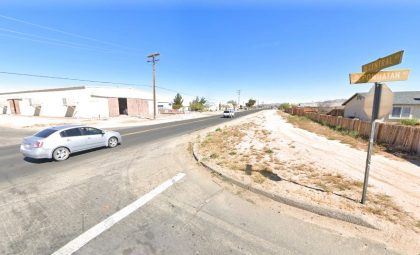 The accident transpired at approximately 7:00 p.m. near Powhatan and Central Roads in Apple Valley. The 57-year-old man was driving his Mazda 6 on the southbound lanes of Central Road when, for unclear reasons, he swerved into the path of an oncoming northbound Jeep Wrangler.
The Mazda 6 and the Jeep Wrangler then collided head-on. Both vehicles sustained major front-end damage due to the severity of the impact. Unfortunately, the Mazda 6 driver could not survive his injuries and was pronounced dead at the scene.
The 17-year-old Jeep Wrangler driver sustained minor injuries and complained of pain. They were taken to an area hospital for treatment. The Apple Valley station's Major Accident Investigation Team is further investigating the accident.
Witnesses that can provide helpful information about the accident are urged to contact Apple Valley Station (760) 240-7400 or call WeTip at 1-800-78-CRIME or leave information at www.wetip.com.

Fatal Head-On Collision Statistics
A head-on collision occurs when two vehicles collide directly while traveling in opposite directions. Even at low speeds, these collisions can result in serious injuries and even death. Head-on accidents can lead to severe injuries. Many of these injuries are permanent, and permanent injuries can lead to a lifetime of pain and suffering.
Although head-on collisions only represent 2 percent of accidents, they account for 10 percent of fatalities on U.S. roadways. There are many potential causes of head-on collisions. Your attorney needs to determine what, exactly, caused the accident because this will determine who was at fault ("liable") for the accident. The person responsible for the accident also has a legal obligation to compensate you for your injuries and losses.
San Bernardino County Wrongful Death Attorney for Victims of Fatal Head-On Collisions
It is difficult to cope with the sudden loss of a loved one in a fatal head-on collision. While the official investigation is ongoing, the victim's family has the right to file a wrongful death claim with the assistance of an attorney. The victim's family is entitled to pursue a wrongful death claim after their loved one's tragic death. When filing for a wrongful death claim, the victim's family is highly encouraged to seek an experienced attorney's assistance.
A wrongful death car accident lawsuit can also help pay for the high medical expenses and other costs incurred due to the crash. It can also help provide financial support for those who have lost income because of an injury or an unforeseen death. Call Arash Law today at (888) 488-1391 or contact us online to schedule your free no-obligation fatal car accident case review.