An unidentified woman was seriously hurt after a multi-vehicle traffic collision in Lucerne Valley on Tuesday morning, June 22.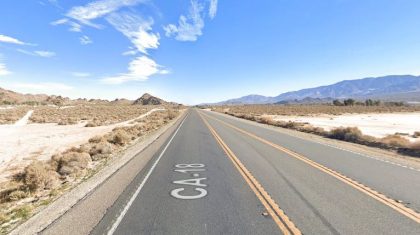 The major collision transpired at approximately 10:17 a.m. on State Highway 18 near Buena Vista Road in Lucerne Valley. Three vehicles collided on the roadway for unclear reasons. The circumstances leading up to the accident have not been established.
One woman reportedly had difficulty breathing and was seriously injured from the crash. She was airlifted to a trauma center. State Highway 18 was blocked in both directions to give way for the cleanup and investigation.
The identities of the involved parties have not been disclosed. Information about the accident is limited at the moment. The California Highway Patrol is further investigating the accident.

Multi-Vehicle Collision Statistics
The flourishing state of California is a hotbed for potential car accidents. According to the National Highway Traffic Safety Administration statistics, there were 3,304 fatal car accidents in California in 2017. Driving anywhere in California is risky. The majority of collisions, however, are preventable. 94% of all accidents are attributable to human error.
Car accidents are sometimes life-altering and traumatic. Because of how universal cars are to our lives, drivers often forget just how dangerous they can become and that severe and even deadly car crashes can occur.
Multi-vehicle collisions are just one type of car accident. This type of accident usually occurs when three or more cars are involved in the accident. They commonly stem from a "chain-reaction" crash, wherein one vehicle will bump into another, causing it to crash into other cars on the roadway potentially. These accidents are caused by various reasons, such as distracted driving, drunk driving, and driver over-fatigue.
San Bernardino County Personal Injury Attorney for Victims of Multi-Vehicle Collisions
Determining liability in a multi-vehicle collision can be a complicated process. If you have been injured in one, you have the right to file a personal injury claim with the help of an experienced attorney. Self-representation can put you at risk of making mistakes and missing your opportunity to recover for your damages. Negotiating with insurance claims adjusters is difficult, and the stakes can be high. Protect your rights and your future by retaining an attorney to settle your case or take it to trial if need be.
At Arash Law, we fight hard for injury victims. You can rely on our relentless trial attorneys to work vigorously to assure that liability is allocated accurately in your legal case so that you get the total compensation you deserve under the law. Call Arash Law today at (888) 488-1391 or contact us online to schedule your free no-obligation fatal car accident case review.