An unidentified 67-year-old woman was killed after a fatal bicycle accident in Hesperia on Tuesday afternoon, July 27.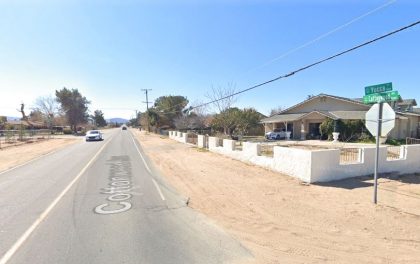 The accident took place on Cottonwood Avenue and Yucca Street in Hesperia at approximately 12:05 p.m. A northbound white 1997 Chevrolet box truck was driving on Cottonwood Avenue when a bicyclist suddenly made a left turn in front of the box truck. Unfortunately, the bicyclist was unable to avoid the vehicle and broadsided it.
The female bicyclist sustained fatal injuries from the crash. She was pronounced dead at the scene. The driver that struck the bicyclist remained at the scene and willingly cooperated with local authorities. It is unclear whether anyone else was injured in the mishap.
The identities of the involved parties have not been disclosed. No arrests have been made at the moment. The intersection was closed for several hours to give way for the cleanup and investigation. Further investigation of the accident is currently underway.
Witnesses that can give more information about the accident are urged to contact Deputy D. Holland or Deputy F. Zavala at the Hesperia Station at 760-403-8026. Anonymous callers can call the We-Tip Hotline at 1-800-78CRIME (27463) or leave information at www.wetip.com.

Fatal Bicycle Accident Statistics
Bicycles are classified as vehicles under California law. Therefore. Bicyclists are expected to behave similarly to drivers of motor vehicles. They must follow traffic laws, such as stopping at red lights and riding in the same direction as traffic. As a result, bicyclists have the same legal rights as other vehicles. Unfortunately, motorists frequently disregard bicyclists' rights and ride too close to them or attempt to pass them when it is dangerous to do so. As a result, serious injuries and deaths occur.
California is not as friendly to bicyclists as other states. California is one of the most dangerous states for bicyclists. California has the highest number of bicycle fatalities per year in the country. According to the National Highway Traffic Safety Administration, 455 cyclists died in California between 2016 and 2018.
San Bernardino County Wrongful Death Attorney for Victims of Fatal Bicycle Accidents
Riding a bicycle can be a good alternative for traveling short distances. However, there are certain risks involved with riding a bike. Unfortunately, people's lives are also put at risk whenever they ride their bicycles on the roadway.
If you have lost a loved one in a fatal bicycle accident, it can be overwhelming and frustrating at first. However, it's important to know that you have the right to pursue justice for your loved one through a wrongful death claim.
A wrongful death claim will allow the victim's family to seek compensation for both the economic and non-economic damages that they've accrued from the accident. You can pursue a wrongful death claim with the assistance of an experienced attorney.
Arash Law's lawyers can be a valuable legal resource and will vigorously fight for your rights. We will make certain that you receive the compensation that you are entitled to. In the event of a bicycle accident in California, contact Arash Law to discuss your options. Call us at (888) 488-1391 or send us an email.