A 74-year-old man was killed after his electric scooter was struck by a passing vehicle in Victorville on Sunday morning, November 29.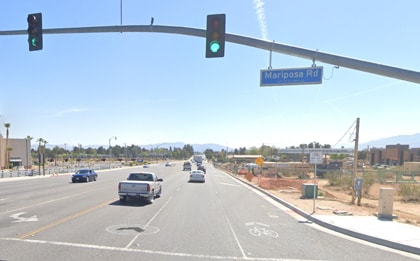 According to the local authorities' initial reports, the deadly accident transpired at around 2:12 a.m. on Mariposa Road near Nisqualli Road. 
The older man was riding a Wansen motor scooter when an unspecified vehicle struck him. The driver did not stop to render aid and fled.
Despite the paramedic's life-saving measures, the 74-year-old man was later pronounced dead at the scene.
Authorities determined that the vehicle that struck the man is possibly an older model-silver vehicle.
They are actively pursuing the hit-and-run driver at the moment. 
Fatal Electric Scooter Accident Investigation is Underway
Local authorities are currently investigating the factors that may have caused the accident to occur. Witnesses that can provide additional information about the accident are urged to contact Deputy M. Lee or Deputy J. Mata at the Victorville Police Department at (760) 241-2911 or Sheriff's Dispatch at (760) 956-5001.
Electric scooters have gained popularity in California over the past few years. Because electric scooters have become a good travel alternative, they are inexpensive and convenient to use. However, electric scooter accidents are also becoming a growing concern. Electric scooter accidents can lead to severe injuries such as dislocations, bone fractures, lung contusions, soft-tissue injuries, and a splenic laceration.
According to the medical data recorded by two UCLA hospitals in Los Angeles and Santa Monica, approximately 249 emergency room visits between September 1, 2017, and August 2018 are related to standing electric scooters. Most of these patients were either struck by vehicles or fell off their electric scooters. 
When facing cases like this, it's vital to have an experienced San Bernardino wrongful death attorney conduct an independent investigation. Attorneys have the resources that can help them prove the negligence of the liable party. They can re-interview important witnesses, review relevant surveillance footage from the scene, and obtain the responsible party's phone and texting records. 
San Bernardino Wrongful Death Attorney for Victims of Electric Scooter Accidents
While waiting for the official investigation results, the victim's family is encouraged to pursue a wrongful death claim with their attorney's assistance. Through the wrongful death claim, the victim's family can seek compensation for the damages (such as loss of income and companionship, pain and suffering, funeral expenses, and emotional distress) that the accident has caused them. 
Attorneys can serve as a compassionate, helpful legal guide during this difficult time for the grieving family. They will vigorously fight for their client's rights and best interests while ensuring that the liable party will be held accountable for their negligence. Attorneys can also negotiate with insurance companies on behalf of their clients to ensure they are compensated fairly. 

If you have a nagging suspicion that someone is to blame for the death of your spouse or family member, contact Arash Law. We have the resources you need to pursue justice for wrongful death and the experience to ensure that you get fair compensation. We're conveniently located throughout California, with offices in Los Angeles, Sacramento, San Francisco, Riverside, Orange County, and San Diego, and are happy to visit you at your home or office. Call (888) 488-1391 for a FREE Consultation with a wrongful death attorney in California.