An unidentified man was killed after a deadly motorcycle collision involving three other vehicles in Victorville on Tuesday evening, March 2.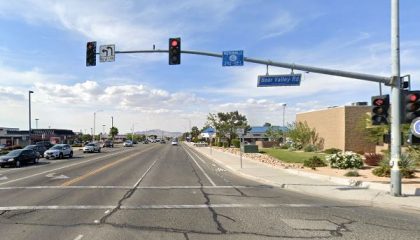 The multi-vehicle collision with the motorcycle transpired at approximately 4:48 p.m. on Bear Valley Road at Hesperia Road.
The motorcyclist was reportedly heading westbound on Bear Valley Road at high speeds. A witness claimed that the motorcyclist might have been attempting to beat the red light.
The motorcyclist then collided with a southbound Toyota Yaris. He struck the driver's side of the vehicle, then flew 10 feet and went under a stopped truck.
The collision triggered a chain-reaction crash. The Toyota Yarris collided with a Jeep Grand Cherokee and a GMC Sierra after the initial crash.
Bystanders at the scene attempted to perform CPR on the motorcyclist while waiting for emergency personnel to arrive. The motorcycle rider was rushed to Desert Valley Hospital, where he was sadly later pronounced dead.
The Toyota Yari driver remained at the scene and cooperated with local authorities. The Victorville Police Department is currently investigating the accident. Witnesses that can provide additional information about the accident are encouraged to call the Victorville Police Department at 760-241-2911.

Fatal Motorcycle Statistics
Motorcycle accidents can often lead to catastrophic and even devastating results. According to the National Highway Traffic Safety Administration's National Center for Statistics and Analysis, approximately 5,286 motorcyclists were killed in the U.S. in 2016.
Motorcycle riders are encouraged to dress appropriately and wear a helmet every time they ride their motorcycle to prevent fatal injuries. Wearing helmets were estimated to be 37% effective in preventing motorcycle deaths.
Many injuries can result from a motorcycle crash, from road rash and traumatic tattooing to head and brain injuries. Motorcycle accidents also have serious effects on the involved party's mental health, often resulting in emotional scarring.
Not every motorcycle accident victim walks away. Motorcyclists are much more likely to experience fatal injuries in a crash than passengers of other motor vehicles.
San Bernardino County Wrongful Death Attorney For Victims Of Motorcycle Accidents
While the investigation is on-going, the victim's family is entitled to pursue a wrongful death claim. Through the wrongful death claim, families can seek compensation for the damages (such as loss of companionship, pain, suffering, and emotional distress) that the tragic incident has caused them.
If your loved one recently passed away in a motorcycle accident, first, we offer our sincere condolences. Members of our legal team know firsthand what it's like to lose family members, spouses, and children. We know how devastating a life cut short can be and want to extend our legal experience to aid you and your family during this difficult time. We want to help you file a wrongful death claim.
At Arash Law, we know compensation won't bring back your loved one after a motorcycle accident. It can, however, can go a long way toward improving your family's financial future. We want to help you seek justice, compensation, and closure after the tragic death of someone you loved.
Call (888) 488-1391 to schedule your free consultation anywhere in California. Our offices are conveniently located in Los Angeles, San Diego, San Francisco & Riverside, plus we also serve the Irvine, Orange County, Fresno, and Sacramento areas, to name a few.