Injuries were reported after a suspected DUI accident involving two vehicles in northern Fontana on Tuesday evening, May 25th.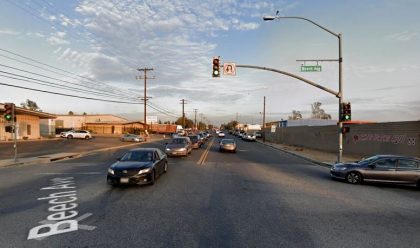 The collision took place in Beech Avenue near Route 210 Freeway in northern Fontana at around 7:00 p.m.
Two vehicles collided near the doorway of the Route 210 highway. A Camaro was reportedly driving at high speeds while exiting the freeway. The Camaro then collided with a van and struck a wall.
Local authorities suspect that a DUI driver may have caused the collision. Injuries were reported after the accident but the number of people injured and the severity of their injuries have not been disclosed.
Local authorities are investigating the case.

DUI Accident Statistics
Intoxicated drivers put innocent people — and themselves — at severe and unacceptable risk. While California and the United States as a whole have made some remarkable progress on curbing drinking and driving, there is still a very long way to go.
According to the National Highway Traffic Safety Administration (NHTSA), approximately 30 people in the U.S. die every day due to drunk driving accidents. Drunk driving accounts for about 29 percent of all motor vehicle accident fatalities in the U.S. Around sixty-one percent of these drivers have a Blood Alcohol Content of .08 percent or higher.
One of the most disturbing things about DUI wrecks is that they are disproportionately likely to result in fatalities or severe injuries, including traumatic brain injuries (TBIs), broken bones, internal organ injuries, spinal cord damage, and partial or total paralysis.
When DUI accidents occur, the resulting crashes are far more likely to lead to significant injuries. This is because impaired drivers are more likely to engage in reckless or dangerous behavior. Many DUI accidents occur at high rates of speed.
San Bernardino Personal Injury Attorney for Victims of DUI Accidents
Drunk driving is one of the most reckless and irresponsible things a driver can do. The majority of the time, these drivers are aware of the consequences of their actions. If an intoxicated driver caused your injuries, you must make them liable for your damages.
You should seek professional representation from a DUI victim attorney near you who can pursue a personal injury claim on your behalf in civil court. Your lawyer can enter any information uncovered in the criminal case, including a DUI conviction, into evidence in your civil case.
At Arash Law, we are proud to be aggressive advocates for injured victims. Our law firm does not represent defendants, nor does it serve insurance companies. We use our skills, knowledge, and legal experience to fight for the interests of injured victims. Following an accident, you and your family need the very best California DUI victim lawyer on your side.
We will take your case wherever it needs to go to get you the maximum available financial compensation. Call Arash Law today at (888) 488-1391 or contact us online to schedule your free no-obligation fatal car accident case review.