An unidentified man was hurt after getting struck by a vehicle in Victorville on Monday night, July 12.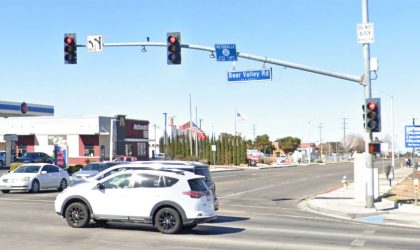 The accident occurred at approximately 8:35 p.m. on Bear Valley Road, east of 2nd Avenue in San Bernardino County. The pedestrian was attempted to cross through the middle of the intersection when a passing vehicle suddenly struck him.
The victim sustained serious injuries from the mishap. He was airlifted to a trauma center out of town for extensive treatment. The driver that struck the victim remained at the scene and willingly cooperated with local authorities.
It is unclear whether drugs or alcohol were a factor in the accident. The case is currently under further investigation. Witnesses that can give additional helpful information about the crash are encouraged to contact the Victorville Police Department at 760-241-2911.

Pedestrian Accident Statistics
Approximately 110,000 pedestrians are injured every year in the U.S. According to the National Highway Traffic Safety Administration, 6,227 pedestrians were killed in 2018, which had a 250 increase from the previous year. California is one of the most dangerous places for pedestrians.
California has a pedestrian fatality rate that is 25% higher than the national average. In 2018 alone, more than 14,000 were injured, while 893 people were killed due to pedestrian accidents. Pedestrian accidents often lead to severe injuries and even death to those who are unlucky enough to be involved in such an accident. Common injuries resulting from pedestrian accidents are head trauma like concussions or brain bleeds, traumatic brain injuries, and many other debilitating injuries.
Personal Injury Attorney for Victims of Pedestrian Accidents in San Bernardino County
Pedestrian accidents can result in serious injuries, which can cost thousands of dollars in medical bills. Hiring a capable attorney to represent you, in this case, is highly recommended. A pedestrian accident lawyer from Arash Law will help you stay one step ahead of the insurance company or responsible party and avoid mistakes that jeopardize your claim.
Attorneys have the resources that can help them prove the negligence of the liable party. They can utilize their resources to re-interview important witnesses, review relevant surveillance footage from the scene, and obtain phone and texting records of the responsible party.
Arash Law's experienced personal injury lawyers have extensive expertise and knowledge representing California pedestrians who have been injured or killed in pedestrian accident cases. We have an intimate understanding of the law that applies in such circumstances. We take the time to get to know our clients and their cases in intimate detail, enabling us to obtain the most favorable settlements or jury verdicts possible for our clients. Call (888) 488-1391 for a Free Consultation with a California personal injury attorney.