An 82-year-old man identified as Charles MacDougall was killed after a deadly motorcycle crash in Chino on Monday evening, August 30.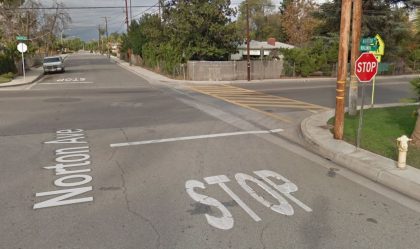 The crash transpired at approximately 7:42 p.m. on Norton Avenue near Walnut Avenue in Chino. MacDougall and another passenger were riding their motorcycle on the roadway when, for unclear reasons, they crashed into a parked car in front of a private home on Norton Avenue.
Due to the severity of the impact, both the motorcycle rider and his passenger were ejected from their motorcycle.
Sadly, the motorcycle rider was pronounced dead at the scene. Meanwhile, his passenger was immediately taken to Pomona Valley Hospital Medical Center to be treated for their injuries. The severity of the other rider's injuries and their identity has not been disclosed. Information about the accident is limited at the moment.
Local authorities are currently attempting to determine the cause of the accident. Drugs and alcohol were not considered as factors in the crash. Witnesses that can give additional information about the crash are urged to contact Officer Cory Freedle at (909) 334-3095 or email cfreedle@chinopd.org.

Fatal Motorcycle Accident Statistics
Motorcycle riders are more vulnerable to serious and deadly injuries compared to passengers and drivers of private vehicles. Despite the fact that motorcyclists make up only 3% of the entire motor vehicle fleet, they still account for 14% of all traffic-related fatalities.
In 2018, around 5,000 motorcyclists were killed in motorbike accidents across the country. Motorcyclists are 35 times more likely than automobile drivers to be killed in an accident for every mile driven.
California has one of the largest numbers of registered motorcycles in the U.S. There are over 800,000 registered motorcycles in California. In 2017, 16,505 motorcycle accidents occurred on California roadways, which resulted in 15,527 injuries and 541 deaths.
Lane splitting, speeding, drunk drivers, and road hazards are common reasons why motorcycle accidents occur.
Wrongful Death Attorney for Victims of Motorcycle Accidents in San Bernardino County
A fatal accident can completely change the lives of the victim's family. They may be overwhelmed with grief and stress during this difficult time. But it's important to remember that you shouldn't have to face this alone.
After a fatal motorcycle accident, it's best to immediately consult with experienced motorcycle accident lawyers to help you in filing a wrongful death claim. It's best to avoid speaking with insurance companies with an attorney by your side as they may attempt to lowball you and manipulate you into settling for a lower amount.
You have the right to be properly compensated for both the economic and non-economic damages the accident has caused you. Speak with one of our experienced motorcycle accident lawyers from Arash Law now.
We offer free initial consultations so you don't have to worry about paying us right away. Our firm operated on a contingency fee basis, which means you will pay us nothing unless we win your settlement. Please contact us by email or phone at (888) 488-1391.