An innocent driver was injured while a male suspect was killed after a police chase caused a traffic collision in Apple Valley on Thursday afternoon, April 8.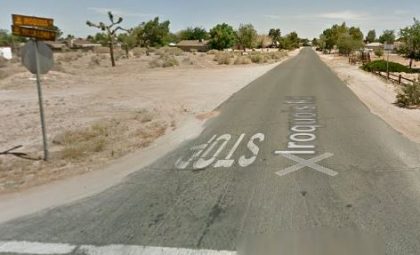 The accident occurred at the intersection of Yucca Loma Road and Iroquois Road at approximately 3:50 p.m.
A driver reportedly failed to stop at a stop sign, and a deputy attempted to pursue the driver for vehicle code violations. The suspect then struck an SUV at the intersection.
Due to the severity of the impact, the suspect's vehicle rolled several times before coming to a rest on its roof. The suspect died at the scene. His identity has not been disclosed.
The female driver of the SUV sustained serious injuries from the crash. She was airlifted to Arrowhead Regional Medical Center for treatment. Local authorities are currently investigating the accident further.

Two-Vehicle Collision Statistics
Car accidents in the U.S. happen almost every minute. Tens of thousands of drivers and passengers lose their lives each year due to crashes. According to the United States Department of Transportation's Fatality Analysis Reporting System (FARS), there were 33,654 fatal vehicle crashes in 2018, which caused 36,560 deaths.
A head-on accident is defined as the front end of any two vehicles hitting each other. These types of crashes happen mainly in a traffic light, stop sign, or blind intersections and on freeways.
Unfortunately, not everyone survives from a head-on collision. Although head-on collisions only represent 2 percent of accidents, they account for 10 percent of fatalities on U.S. roadways. Head-on crashes at intersections occur when drivers disregard traffic laws and signals, such as red lights, stop signs, or yield signs.
Personal Injury Attorney for Victims of Fatal Two-Vehicle Accidents in San Bernardino County
While it's technically possible to represent yourself in a car accident case, it is not the wisest course of action. Self-representation can put you at risk of making mistakes and missing your opportunity to recover for your damages.
Negotiating with insurance claims adjusters is difficult, and the stakes can be high. Protect your rights and your future by retaining an attorney to settle your case or take it to trial if need be.
The experienced auto accident lawyers at Arash Law have decades of experience and have collected over 200 million dollars for clients across the state. We serve clients in San Francisco, Riverside, San Jose, San Diego, Sacramento, Sherman Oaks, and California.
We fight hard to protect our clients' legal rights so they can focus on recovering from their injuries. Call (888) 488-1391 or contact us online to schedule your free consultation. Don't delay – the sooner you have an experienced car accident attorney fighting on your side, the better protected your legal rights will be.