A 45-year-old construction worker identified as Isaac Paul L. was killed after a passing vehicle crashed into a construction zone in Victorville on Thursday morning, March 25th.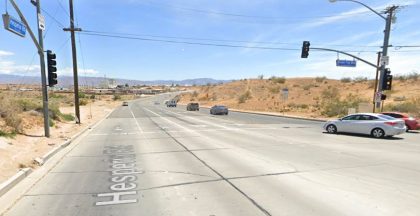 The accident transpired around noon in a construction zone along Hesperia Road, just south of Green Tree Blvd. A northbound white Chevy Suburban drifted off the roadway in unclear circumstances and drove into a construction zone.
The Chevy struck four construction workers before coming to a rest perpendicular to the road near the shoulder. One person sustained fatal injuries as a result of the crash. He was pronounced dead at the scene.
Meanwhile, three others were seriously injured. One of the victims was airlifted to an area hospital while the two others were transported via ambulance. The driver that struck the construction workers remained at the scene and willingly cooperated with local authorities.
The accident is currently under investigation. Witnesses that can give more information about the crash are urged to contact Deputy T. Wetzel or Deputy S. Lenihan at the Victorville Police Station at 760-241-2911.

Fatal Pedestrian Accident Statistics
Pedestrians are the most vulnerable in traffic accidents compared to passengers of private vehicles and motorcyclists. Because of this, pedestrians are more likely to suffer from serious injuries.
Common injuries resulting from pedestrian accidents are head trauma like concussions or brain bleeds, traumatic brain injuries, and many other debilitating injuries. Many pedestrian accident injuries can result in either functional impairments or long-term conditions.
Unfortunately, pedestrian accidents are not an uncommon occurrence. According to the Governors Highway Safety Association, pedestrian fatalities in the U.S. have increased by 27 percent from 2007-2016, while other traffic-related deaths decreased by 14 percent. Some common reasons for pedestrian accidents are negligent driving, speeding, and drivers failing to yield to pedestrians.
San Bernardino County Wrongful Death Attorney for Victims of Pedestrian Accidents
A California wrongful death lawsuit must also be brought within two years of the date of the accident. A family member is precluded from bringing a wrongful death lawsuit if it is not filed within that time period. This is why it is essential to file a wrongful death claim as soon as possible. The victim's family may seek the assistance of an experienced attorney when filing for a claim.
Arash Law's experienced pedestrian accident lawyers have extensive expertise and knowledge representing California pedestrians who have been injured or killed in pedestrian accident cases. We have an intimate understanding of the law that applies in such circumstances. We take the time to get to know our clients and their cases in intimate detail, enabling us to obtain the most favorable settlements or jury verdicts possible for our clients.
Call (888) 488-1391 for a FREE Consultation with a Pedestrian Accident Lawyer in California