A 61-year-old woman identified as Carla Bison was seriously hurt after getting hit by a vehicle in Morongo Valley on Monday night, December 28.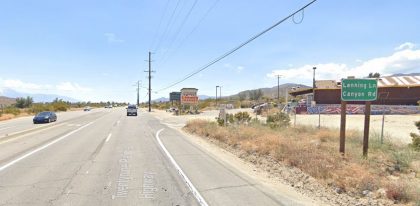 The accident occurred at approximately 8:00 p.m. on Highway 62, just west of Lanning Lane in Morongo Valley. The victim was reportedly walking on the highway when a passing 2019 Subaru Legacy suddenly struck her.
The woman sustained severe injuries as a result of the crash. She was immediately taken to Desert Hospital in Palm Springs for treatment.
The driver of the Subaru was later identified as Jacob Schofield. He remained at the scene and cooperated with the offices. He was uninjured from the accident.
Major Pedestrian Accident Investigation is Underway
Local authorities are currently attempting to determine the factors that may have caused the accident to occur.
Pedestrian accidents have seemingly increased over the years. According to the Governors Highway Safety Association, approximately 6,227 pedestrians were killed in the U.S. back in 2018, a 250 increase from the previous year. Some common reasons why pedestrian accidents occur are distracted driving, speeding, negligent driving, and drunk driving.
It is essential to take this matter seriously. If you are suffering from severe injuries due to a major pedestrian accident, you should seek the assistance of an experienced personal injury attorney to conduct an independent investigation on the victim's behalf. During the independent investigation, attorneys will analyze all the possible factors, including road conditions, signage visibility, and road lighting, to effectively solve the case.
San Bernardino Personal Injury Attorney for Victims of Pedestrian Crashes
It can be quite challenging for the victim to return to their daily lives after a major pedestrian accident. Their injuries may affect all aspects of their lives, such as family, work, and finances.
While waiting for local authorities to finish investigating the case, the victims are entitled to pursue a personal injury claim. The personal injury claim allows the victims to get financial compensation for their medical expenses, emotional distress, loss of income, and pain and suffering.
Getting a lawyer to help you with your claim can set you in a huge advantage. Aconsiderableneys can serve as a useful legal guide and negotiate with insurance companies on behalf of their clients to ensure that they will be fairly compensated.

Our lawyers at Arash Law are capable of ensuring that our clients will be fairly compensated for their claims. Our firm has decades' worth of experience and excellent lawyers to help you win your case. We're conveniently located throughout California with offices in Los Angeles, Sacramento, San Francisco, Riverside, Orange County, San Diego, and are more than happy to visit you at your home or office. Call (888) 488-1391 for a FREE Consultation with a wrongful death attorney in California.