A 26-year-old man identified as Gerardo M. was killed after a two-vehicle collision in the town of Apple Valley on Thursday evening, April 22.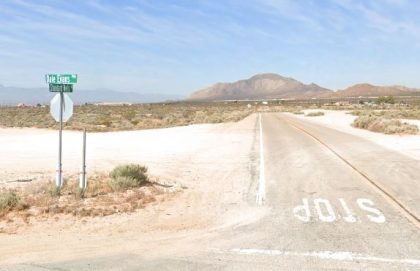 The fatal accident happened at around 9:26 p.m. at Dale Evans Parkway and Stoddard Wells Road.
A 2016 gray Nissan Altima was reportedly heading east on Stoddard Wells when, for unclear reasons, it collided with a northbound 2013 Chevrolet Camaro driven by Mendoza at the intersection.
The Chevrolet driver was unfortunately killed in the collision. He was pronounced dead at the scene. His two passengers sustained unspecified injuries and were taken to an area hospital for treatment.
The Nissan driver was also injured in the accident. She was immediately taken to a nearby hospital.
Deputies from the Apple Valley Police Station's Major Accident Investigation Team (M.A.I.T) are attempting to determine whether drugs or alcohol played a role in the collision.
Witnesses who can give more information about the accident are urged to call Deputy Ryan G. or Jasen M. at the Apple Valley Station at 760-240-7400. Those wishing to remain anonymous may call WeTip at 800-78-CRIME or www.wetip.com.

Fatal Two-Vehicle Collision Statistics
Car accidents in the U.S. are increasing at an alarming rate. Every year, approximately 36,000 people while 1.9 million people are injured due to traffic-related accidents.
Car accidents occur under numerous circumstances. According to the National Highway Traffic Safety Administration, many of them involve the negligent or irresponsible behavior of another driver. Speeding is one of the primary causes of fatal accidents in 2018.
When a car accident occurs, the victims, their families, and the entire community are often devastated. The California Office of Traffic Safety (OTS) reports that there were 3,563 car accident fatalities throughout the state in 2018 alone. Thousands of people must deal with grief and sudden loss in the wake of California's deadly accidents.
Some of the main reasons car accidents occur are distracted driving, intoxication, failure to yield the right of way, and drowsy driving.
San Bernardino County Wrongful Death Attorney for Victims of Two-Vehicle Collision
If you lost a loved one who was killed in a deadly car accident due to another driver's negligence, you have a legal right to hold that driver accountable for their actions. A fatal car accident attorney can't turn back the clock to make things the way they were before the car accident. However, we can help you obtain compensation for the awful, unexpected losses the crash caused in your life.
At Arash Law, our fatal car accident attorneys have the resources and compassion to help the victims regain control of their lives after a tragic accident. They can serve as a helpful legal guide for the victim's family while vigorously fighting for their rights in court.
Call Arash Law today at (888) 488-1391 or contact us online to schedule your free no-obligation fatal car accident case review.