Four people were hurt after a major traffic collision involving a semi-truck in Victorville on Wednesday afternoon, September 8.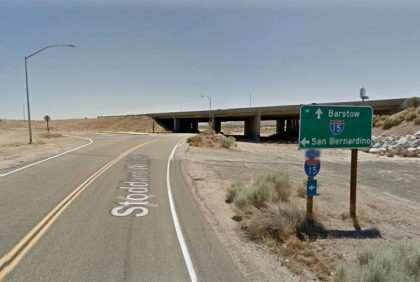 The accident happened in the southbound lanes of the 15 Freeway near Stoddard Wells Road at approximately 12:32 p.m. A white Hyundai Elantra was reportedly driving slowly on the freeway due to a broken tire when a semi-truck suddenly struck it.
The semi-truck then continued and collided with a white pickup truck. Due to the severity of the impact, both vehicles were pushed off the right-hand shoulder of the freeway.
Four people sustained varying degrees of injuries in the mishap. One person was critically injured and airlifted from Victor Valley Global Medical Center to Arrowhead Regional Medical Center.
It's unclear what caused the crash to occur. The California Highway Patrol is actively investigating the case.

Semi-Truck Accident Statistics
Crashes involving tractor-trailers are often complicated to deal with. There are a lot of factors that need to be considered in a semi-truck crash. Crashes involving semi-trucks are usually caused by loss of control of the truck, a tire blowout, a disabling or non-disabling vehicle failure, excessive speed, lane drifting, improper truck maneuvering, and driver fatigue. Sadly, according to a recent study, one out of three commercial truck drivers suffers from mild to severe sleep apnea, which harms their attentiveness and performance.
Every 15 minutes, one person is killed somewhere in the country because of a semi-truck accident. In 2015, there were almost 4,000 tractor-trailer-related deaths in the United States, according to the U.S. Department of Transportation data. A shocking 22 percent increase in semi-truck accident fatalities occurred between 2009 and 2015. About 11% of all fatal traffic accidents in 2015 involved a tractor-trailer.
San Bernardino County Personal Injury Attorney for Victims of Semi-Truck Accidents
Semi-truck accidents often result in serious injuries for the involved parties. It can leave them with expensive medical bills and lost wages. When facing tractor-trailer accidents like this, it's vital to have a professional personal injury attorney specializing in tractor-trailer accidents.
An attorney can conduct an independent investigation for the client to prove the guilty party's negligence and assist them in filing a personal injury claim. Victims can demand compensation for medical expenses, lost earnings, and future loss of profits or medical care through the personal injury claim.
Arash Law has expert semi-truck attorneys in our team who have decades of experience handling personal injury claims. We're here to help you get the compensation you're owed with our semi-truck accident firm! You can reach a free consultation with a California wrongful death attorney by calling (888) 488-1391.