An unidentified 69-year-old man from Riverside was killed after a fatal tractor-trailer collision in Barstow on Friday afternoon, January 22.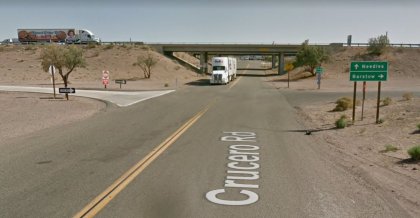 The deadly accident transpired at approximately 1:00 p.m. on Interstate 40, east of Crucero Road in Barstow. The unidentified Riverside man was driving his 2005 Chevrolet pick-up truck westbound at high speeds in the No.2 lane. It then later rear-ended a 2019 Kenworth tractor-trailer.
The tractor-trailer was reportedly towing a tanker trailer and traveling around 55 mph before the accident. The Chevrolet then drifted off to the right side of the roadway, entered the right dirt shoulder, and overturned. The Chevrolet driver was then ejected from his vehicle. He was pronounced dead at the scene.
Drugs and alcohol were not considered as factors in the accident. The driver of the tractor-trailer was not injured from the crash. He remained at the scene and cooperated with local authorities.
The California Highway Patrol is currently investigating the case. Witnesses that can give more information about the accident are urged to call the CHP at 760-255-5900.

Tractor-Trailer Accident Statistics
The trucking industry is a multi-billion dollar industry that turns over massive profits. However, it must adhere to strict rules and regulations to help keep everyone on our road-system safe. When the industry chooses to cut safety corners to keep up with demand and improve their bottom line, they endanger motorists everywhere.
In 2018, Eleven percent of all motor vehicle crash deaths involved tractor-trailers. This is because tractor-trailer accidents are one of the deadliest motor accidents given the massive size of big rigs. According to the U.S, a fully loaded big rig needs as much as 20 to 40 percent more stopping distance.
There are several reasons why tractor-trailer crashes occur. Some of them are loss of control of the truck, a tire blowout, a disabling or non-disabling vehicle failure, excessive speed, lane drifting, improper truck maneuvering, and driver fatigue. The trucking industry is critical to our economy, but it is also responsible for taking all the necessary safety precautions as it continues to grow. If a trucking company's negligence causes you to be injured in a tractor-trailer accident, call a skilled semi-truck attorney today.
Wrongful Death Attorney for Victims of Fatal Tractor-Trailer Accidents in San Bernardino County
Losing a loved one from a deadly tractor-trailer accident may leave the family with immense pain and trauma.
While waiting for the official investigation results, the victim's family is encouraged to pursue a wrongful death claim with their attorney's help. Through the wrongful death claim, the family can seek financial compensation for medical bills, funeral expenses, pain, and suffering.
Tractor-trailer (semi-truck) accidents are incredibly complicated, but our experienced tractor-trailer attorneys have the skill, knowledge, and compassion to aggressively advocate for your claim's most favorable resolution. The fact is that semi accidents are more complex than traffic accidents involving non-commercial vehicles. If you've been injured in such an accident, you need the professional legal counsel of an experienced semi-truck attorney.
If you have lost a loved one from a fatal tractor-trailer accident and wish to pursue justice for them, our lawyers at Arash Law are here to help you. Give us a call at (888) 488-1391 today. Our offices are located in Los Angeles, San Francisco, San Diego, Sacramento, Riverside, Woodland Hills, Orange County. They are more than happy to travel to your home, office, or place of recovery.