A 37-year-old man identified as Jesus Aguilar Santa C. was killed after getting struck by a passing vehicle in Victorville on Monday morning, March 8.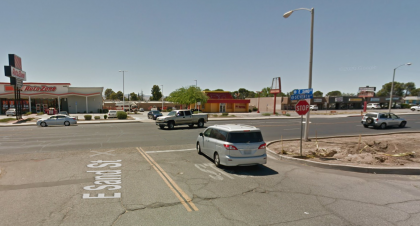 The deadly accident transpired at approximately 5:46 a.m. at Seventh Street and Sand Street's intersection in Victorville.
The victim was struck by an unspecified southbound vehicle at the intersection. The circumstances leading up to the collision have not been established.
The driver that struck the pedestrian did not stop to render aid and fled the scene. The pedestrian sustained fatal wounds from the crash. He was sadly, later pronounced dead at the scene.
Information about the suspect's whereabouts, vehicle, and identity has not been disclosed at the moment.
Local authorities are further investigating the accident. They are also actively pursuing the hit-and-run driver. The driver will most likely face hit-and-run related charges once caught.

Fatal Hit-And-Run Pedestrian Accident Statistics
Pedestrian accidents are unlike other types of accidents just because pedestrians have no protection in an accident. Those who are riding in cars are in vehicles that weigh an average of at least 4,000 pounds and have seat belts and airbags to protect them.
Pedestrians currently make up a large percentage of traffic fatalities in the past 33 years. According to the Governors Highway Safety Association, pedestrian fatalities in the U.S. have increased by 27 percent from 2007-2016, while other traffic-related deaths decreased by 14 percent.
Walking away from a pedestrian accident is also more comfortable. Leaving the scene after an accident is a crime in itself. Unfortunately, hit-and-run accidents still occur on U.S roadways every day.
A hit-and-run accident occurs somewhere in the U.S. every 43 seconds. In 2015 alone, there were 737,100 hit-and-run accidents recorded throughout the country.
San Bernardino County Wrongful Death Claim For Victims Of Fatal Pedestrian Accidents
It can be quite distressing to be involved in a pedestrian accident, especially when you've lost a loved one cause of it.
While you attend to the vital task of moving forward toward a full physical and emotional recovery, allow your hit and run accident lawyer to help guide your claim toward its best possible resolution. You may be concerned about a hit-and-run lawyer's costs, but don't let this dissuade you from seeking legal counsel.
A California wrongful death lawsuit must also be brought within two years of the date of the accident. A family member is precluded from bringing a wrongful death lawsuit if it is not filed within that time period.
Contact our attorneys from Arash Law today. We have helped our injured clients recover more than $500 million. The experienced wrongful death attorneys of our law firm are available at any time — day or night 365 days per year — to answer your questions and provide you with expert legal guidance. Call (888) 488-1391 today to arrange a free consultation, or use our contact form to reach us online.