A Navy service member was killed while five others were injured after a multi-vehicle collision involving military trucks near Camp Pendleton on Tuesday morning, March 2.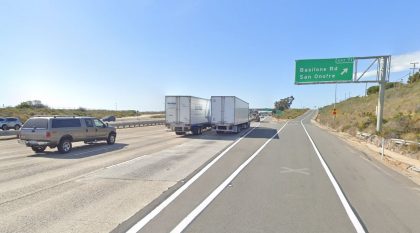 The collision occurred at approximately 7:00 a.m. on Interstate 5, just south of Basilone Road near Camp Pendleton.
Five military trucks were traveling southbound on Interstate 5 in convoy. The convoy then began to slow down, which triggered a chain reaction collision causing the military trucks to crash into each other.
Due to the severity of the impact, one of the truck trailers was pushed forward into the cab, killing the 26-year-old serviceman.
Five other people were injured as a result of the collision. They were taken to Camp Pendleton Naval Hospital and Mission Hospital in Orange County for treatment.
Local authorities are currently investigating the accident. Witnesses that can provide more information about the crash are urged to contact CHP's Oceanside office at 760-643-3400.

Multi-Vehicle Collision Statistics
Large trucks, by nature, operate differently than smaller motor vehicles. They have larger turning radiuses, slower stopping speeds, and a greater tendency to roll over. Inadequate driver training, lack of ability, and poorly maintained trucks can easily lead to terrible accidents.
Multi-vehicle collisions are just one type of car accident. This type of accident usually occurs when three or more cars are involved in the accident. They commonly stem from a "chain-reaction" crash, wherein one vehicle will bump into another, causing it to crash into other cars on the roadway potentially. These types of crashes are commonly caused by drunk driving, speeding, and distracted driving.
Truck accidents are complex personal injury events. Determining the elements that contributed to a crash can take days or even months. An investigative team must consider driver training and competence, vehicle part manufacture, the condition of the roadway, and the responsibilities of the trucking company.
San Diego County Wrongful Death Attorney for Victims of Multi-Vehicle Collisions
Losing a loved one from a fatal multi-vehicle collision can be quite devastating and painful for the victim's family. Facing cases like this can be complicated, which is why seeking the assistance of an experienced attorney is essential.
Attorneys can file a wrongful death claim on your behalf and negotiate with insurance companies and ensure that you will get the compensation you rightfully deserve.
If you have a nagging suspicion that someone is to blame for the death of your spouse or family member, contact Arash Law. We have the resources you need to pursue justice for wrongful death and the experience to ensure that you get fair compensation. We're conveniently located throughout California with offices in Los Angeles, Sacramento, San Francisco, Riverside, Orange County, San Diego and are more than happy to visit you at your home or office.