Three people were injured after a police chase resulted in a wrong-way collision in Rancho San Diego on Sunday morning, February 28.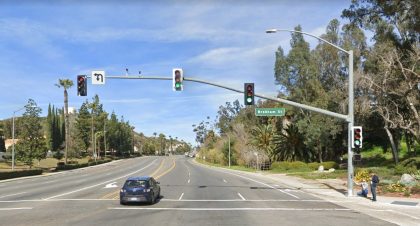 The collision happened at approximately 10:52 a.m. at the intersection of Jamacha Road and Brabham Street. Police officers were pursuing a green Geo Metro over State Route 94 for a traffic violation.
The driver of the Geo Metro attempted to evade authorities and fled the scene.
While attempting to avoid authorities, the driver drifted across the double yellow lines to pass other vehicles. The Geo Metro driver then ran a red light at the intersection and later collided with a black minivan.
The driver of the black minivan was injured as a result of the collision. The Geo Metro driver and his passenger were also hurt in the collision. They were all taken to an area hospital for treatment.
The Geo Metro driver was later identified as 34-year-old Joshua F.. He is expected to face charges including reckless evading arrest and reckless driving. The California Highway Patrol is further investigating the case.

Two-Vehicle Collision Statistics
The liability is clear in this case. The Green geo metro driver is clearly at fault for attempting to evade authorities, which resulted in a major traffic collision. Speeding can lead to major consequences. It can also result in wrong-way collisions, which can result in serious injuries and even death.
Although wrong-way collisions only account for about 1% of all crashes on California's highway system, they can have devastating results that can lead to severe injury and even death.
Approximately 37 people are killed on average in California every year due to wrong-way collisions. These accidents are caused by various reasons, such as distracted driving, drunk driving, driver over-fatigue, and speeding.
Attention to the road, competence behind the wheel, and proper vehicle maintenance can reduce the odds of getting into a collision. Negligence, recklessness, and breaking the law are at the heart of most "accidents." At Arash Law, we've represented clients in dozens of car crash cases.
Personal Injury Attorney for Victims of Two-Vehicle Collisions in San Diego
While it's technically possible to represent yourself in a car accident case, it is not the wisest course of action. Self-representation can put you at risk of making mistakes and missing your opportunity to recover for your damages. Negotiating with insurance claims adjusters is difficult, and the stakes can be high. Protect your rights and your future by retaining an attorney to settle your case or take it to trial if need be.
While waiting for the official investigation results, the victim is encouraged to pursue a personal injury claim with his attorney's help. The victims are entitled to seek financial compensation for the medical expenses, lost earnings, emotional trauma, and pain and suffering that the accident has caused them through the personal injury claim.
If you believe you have grounds to file a claim, retain a local car accident attorney in California near you who can help you navigate car accident laws. Arash Law has decades of experience throughout California and has secured million-dollar settlements and verdicts for our clients. Call (888) 488-1391 for a FREE Consultation with a personal injury attorney in California.