One unidentified person was hurt after a two-vehicle traffic collision in Claremont on Monday afternoon, July 19.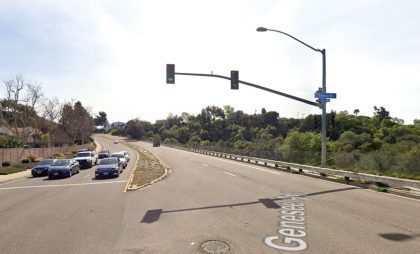 The major collision took place near Genesee Avenue and Chateau Drive in Clairemont at approximately 4:30 p.m. Two unspecified vehicles were involved in the collision. The circumstances leading up to the crash have not been established.
A light-colored car with front-end damage struck a light pole after the collision while the other vehicle was seen across the street, resting on the guardrail. At least one person was hurt in the mishap. The injured party was taken to Scripps Memorial with major injuries.
Additional information about the accident is unavailable at the moment. The identities of the involved parties have not been disclosed. No arrests have been made at the moment. The case is currently under further investigation.

Two-Vehicle Collision Statistics
California is known for having some of the busiest and most congested highways in the country. With so many vehicles sharing the road, traffic congestion, gridlock, and (most importantly) car accidents – both fatal and severe injury accidents – will undoubtedly occur. Getting around downtown California involves hundreds of pedestrians and bicyclists. Drivers must pay strict attention at all times. A car crash can occur in the blink of an eye.
The leading cause of injury deaths in California is car accidents, one of the most common types of accidents. According to the National Highway Traffic Safety Administration (NHTSA), more than 3,304 fatal car accidents were reported in California in 2017, an increase from 2016. Attention to the road, competence behind the wheel, and proper vehicle maintenance can reduce the odds of getting into a collision. Negligence, recklessness, and breaking the law are at the heart of most "accidents."
Personal Injury Attorney for Victims of Two-Vehicle Collisions in San Diego County
Physical pain and post-injury trauma can last a lifetime for those involved in a serious car accident. For the victims, the impending bills and other financial obligations can also cause a great deal of anxiety and confusion.
Accident victims are encouraged to pursue a personal injury claim with the assistance of an experienced attorney while they await the official investigation results into their circumstances. Regardless of how significant your damages or injuries are, it's best to seek advice from an experienced attorney after an accident. Our attorneys from Arash Law can serve as a helpful legal guide during this stressful time.
Our skilled California accident attorneys have years of experience handling all types of personal injury claims in Arash Law. Allow us to take care of your paperwork and protect your legal rights so that you can concentrate on your healing. Make an appointment with a personal injury attorney in California by calling (888) 488-1391 for a FREE Consultation.