An unidentified 33-year-old man was seriously hurt after a bicycle accident in the East Village neighborhood on Sunday night, June 27.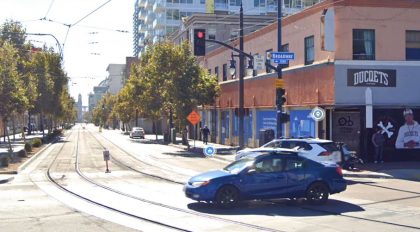 The accident happened at approximately 7:40 p.m. at the intersection of Broadway and Park Boulevard in East Village. The bicyclist was heading southbound on the Park Boulevard sidewalk. He then rode into the crosswalk and crashed into the side of an MTS bus that was turning right.
The bicyclist's body then went directly under the front right wheel of the bus. The bicyclist fractured his ankles as a result of the crash. The bicyclist was immediately taken to an area hospital for treatment.
The MTS bus driver was uninjured and remained at the scene. Additional details about the accident are unavailable at the moment. Local authorities are further investigating the case.

Bicycle Accident Statistics
Although various laws now protect bicyclists in the U.S., bicycle accidents are still an inevitable occurrence. In 2018, approximately 800 bicyclists in the U.S. were killed, with California leading the nation in the most number of bicycle crash deaths annually. Bicycle crashes often happen in urban areas, where cars and bicycles interact the most. Cars hitting bikes is the leading cause of bicyclist injuries and deaths throughout the state.
Statistics show that California leads the nation in the number of bicycling crash deaths per year. The majority of these crashes occur in urban areas, where cars and bicycles interact most often. Cars striking bicycles is the number one cause of bicyclist injuries and deaths throughout the state. In many of these incidents, the driver failed to yield the right of way, failed to check for bikes before pulling out, ran a stop sign or red light, or was otherwise distracted while driving. Drunk driving, texting and driving, and careless driving can all result in a bicycle collision.
San Diego County Personal Injury Attorney for Victims of Bicycle Accidents
Don't wait to talk to an attorney following an accident. Regardless of your injuries, you should talk with the experienced personal injury lawyer about your eligibility for compensation. You can probably recover, suffer pain, property damage, and more from your doctor's bills.
It can be quite difficult to deal with injuries after a major bicycle accident. Waiting for the official results of the investigation, the victims have a right with their attorney to take a personal injury claim. If you have been injured due to the negligence of another driver, you have the right to demand compensation for their medical expenses, lost earnings, emotional trauma, and pain and suffering through the personal injury claim.
If you or someone you love was recently involved in a bicycle accident in California, come to Arash Law. We have experience representing clients in these scenarios. Please pay our offices in Los Angeles, Sacramento, San Francisco, Riverside, Orange County, and San Diego a visit for inquiries and questions. You may also contact us at (888) 488-1391 for a FREE Consultation.