A 43-year-old man was seriously hurt after a motorcycle collision in Chula Vista on Saturday morning, July 24.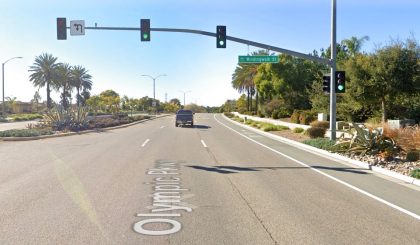 The accident occurred at the intersection of Olympic Parkway and Windingwalk Street in Chula Vista at around 11:35 a.m. A motorcycle and a vehicle collided at an intersection in Chula Vista for unclear reasons.
The circumstances leading up to the accident have not been established. Emergency personnel later arrived at the scene and found the motorcycle rider unconscious. He was given treatment at the scene.
The 45-year-old driver that struck the motorcyclist remained at the scene and willingly cooperated with local authorities. Drugs and alcohol were not considered as factors in the accident. The Chula Vista Police Department is actively investigating the collision.

Motorcycle Accident Statistics
Motorcycles have become a great alternative for riding cars, especially when traveling short distances. However, riding a motorcycle poses more risks than driving a car. According to the U.S. National Highway Traffic Safety Administration (NHTSA) statistics, motorcycle riders have 16 times the risk of injury and 35 times the risk of a fatal crash compared to car passengers.
Motorcycle accidents are quite rampant across the country. In 2018 alone, approximately 82,000 motorcycle-related injuries were reported, while 4,985 people were killed due to motorcycle accidents. California isn't particularly a safe place for motorcyclists either. In 2017, 16,505 motorcycle accidents occurred on California roadways, which resulted in 15,527 injuries and 541 deaths.
But, this doesn't mean that you should be afraid of riding motorcycles. As long as you are wearing proper safety gear, it can significantly decrease the chances of sustaining fatal injuries in case an accident happens. Wearing helmets was estimated to be 37% effective in preventing motorcycle deaths.
San Diego County Personal Injury Attorney for Victims of Motorcycle Accidents
Getting injured in a motorcycle collision can be quite overwhelming and stressful for the victim. As they are recovering from their injuries, they will also face expensive medical bills and possibly months of lost income as they might not be able to return to work right away.
Regardless of who is at fault, victims of motorcycle accidents are encouraged to pursue a personal injury claim with the help of their attorney. Attorneys assist you in filing your claim. Aside from that, they can also speak with insurance companies on your behalf.
Time and again, studies have found that injury victims who have an attorney receive higher settlements than those who do not have a lawyer. There are many reasons why this is the case. You have the legal right to compensation for all your injuries and losses that someone else's negligence caused.
Our attorneys from Arash Law can negotiate a higher settlement for you, giving you the chance to start over with your life after an accident. We understand the pain and the stress that you are going through. You don't have to worry about lawyer fees right away. We offer free consultations with no obligation to retain our firm. We also work on a contingency-fee-basis, meaning you don't pay a dime unless we win you compensation. Get in touch online or call (888) 488-1391