One unidentified person was injured after a multi-vehicle traffic collision near 6th Avenue on Saturday afternoon, September 25.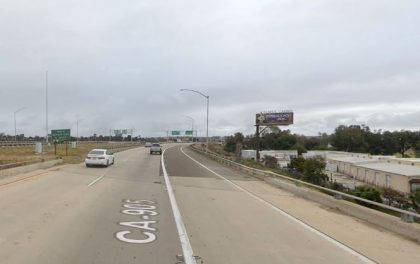 The major collision happened at approximately 1:48 p.m. on southbound I-5 near state Route 905 in Otay Mesa West. Five vehicles were reportedly involved in the collision.
A northbound faded red Honda Civic was traveling in the wrong lanes and collided head-on with an oncoming Toyota Tacoma. The collision then triggered a five-vehicle crash. One person sustained leg injuries from the mishap.
The injured party was immediately taken to an area hospital for treatment. It's unclear whether other people were also hurt in the accident.
Information about the crash is limited at the moment. The identities of the involved parties have not been disclosed. Local authorities are further investigating the cause of the accident.

Multi-Vehicle Crash Statistics
When there are three or more vehicles involved in an accident, it is referred to as a "multi-vehicle collision." They frequently occur due to a "chain-reaction" crash, in which one vehicle collides with another, potentially leading to yet another collision. There are many fatal car accidents in California. Indeed, the population of California has been expanding steadily over the last decade. As the number of individuals who rely on automobiles to commute to and from work increases.
According to the OTS (Office of Traffic Safety), a total of 3,563 people lost their lives in car accidents in California last year, according to the OTS (Office of Traffic Safety). Thousands of individuals are grieving and dealing with new losses due to the terrible incidents in California. Distracted driving, speeding, intoxicated driving, reckless driving, bad weather, wrong-way driving, and failing to respect traffic laws contribute to many car accidents. Carelessness on the driver's side is what's causing these collisions.
San Diego County Personal Injury Attorney for Victims of Multi-Vehicle Crashes
Car accidents can result in serious injury and damages. But it's important to remember that you don't have to pay for another driver's negligence. While it's technically possible to file a personal injury claim on your own, it's not typically recommended. You might get easily manipulated by insurance companies into settling for an amount less than your claim is worth.
To avoid that from happening, you will need an experienced attorney by your side to fight for your rights vigorously. At Arash Law, we go to fight for those who have been injured. If you have a legal case, you can rely on our tenacious trial attorneys to fight hard to make sure that liability is allocated relatively in your case and that you are fully compensated under the law. You can reach Arash Law by phone at (888) 488-1391 or via e-mail to set up a free, no-obligation consultation.