One person was hurt after a major rear-end crash in Lemon Grove on Wednesday night, September 1st.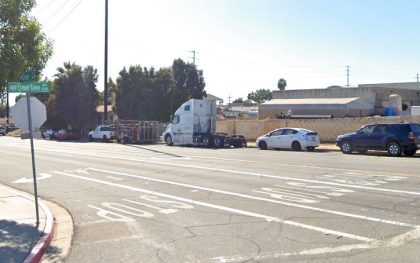 The crash happened on eastbound Highway 64 in the Lemon Grove area at approximately 11:40 p.m. A white Lexus rear-ended another vehicle on the highway for unclear reasons. The circumstances leading up to the crash have not been established.
Due to the severity of the impact, the Lexus then crashed into the center divider K-rail. The Lexus driver was stuck in the wreckage as a result. Emergency personnel later arrived at the scene and extricated the Lexus driver from his vehicle.
He was rushed to an area hospital for treatment of unknown injuries. Information about the accident is limited at the moment. The identities of the involved parties have not been disclosed. The case is currently under further investigation.

Rear-End Accident Statistics
Rear-end collisions are among the most common types of automobile accidents. They are also extremely dangerous. These collisions are most common when one vehicle is stationary and the other moves at high speeds. Every year, rear-end collisions cause approximately 950,000 injuries and 2,000 deaths nationwide, according to the National Transportation Safety Board (NTSB).
Rear-end collisions are among the most common types of car accidents in California. According to the California Highway Patrol (CHP), there were 118,029 drivers involved in rear-end collisions that resulted in injuries and 405 drivers involved in rear-end collisions that resulted in fatalities in 2011. Distracted driving, tailgating, reckless driving, and driving under the influence are all common causes of rear-end collisions.
Personal Injury Attorney for Victims of Rear-End Accidents in San Diego County
Suffering from a serious injury resulting from an accident can be overwhelming and disrupt all aspects of life, including family, work, finances, and quality of life. Insurance companies frequently press their victims to accept a quick settlement even if the case is worth more.
They would try to limit compensation while ignoring the long-term consequences and suffering that a victim might face. Personal injury attorneys can act as a dependable guide for vulnerable victims, ensuring that their rights are protected and that the responsible party is held accountable for their crimes.
Arash Law has the best rear-end accident lawyers in California. Our injury lawyers have over twenty years of combined experience. Our firm has collected more than $500 million for our clients. We have assisted accident victims in San Francisco, Riverside, San Jose, San Diego, Sacramento, Sherman Oaks, and other California cities. To schedule your free no-obligation car accident case review, call Arash Law at (888) 488-1391 or contact us online today.