One unidentified person was killed after a fatal pedestrian accident in Lemon Grove on Tuesday night, July 27.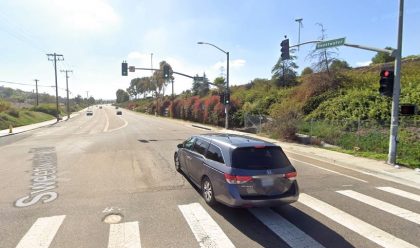 The fatal accident happened on Broadway, just east of Sweetwater Road in Lemon Grove, at approximately 10:40 p.m.
The pedestrian was reportedly struck by a passing vehicle on Broadway. How the accident occurred, and the reason it happened has not been established.
The pedestrian sustained fatal injuries in the mishap. He was unfortunately pronounced dead at the scene. The identity of the victim has not been disclosed.
It's unclear whether the involved driver remained at the scene or drove away after hitting the pedestrian. Additional information about the accident is unavailable at the moment. Local authorities are actively investigating the case.

Fatal Pedestrian Accident Statistics
In the United States, pedestrian accidents are one of the most deadly types of traffic accidents. This is primarily because pedestrians are extremely vulnerable to fatal injuries. After all, they do not have any form of protection in an accident.
As reported by the Governors Highway Safety Association, pedestrian fatalities in the United States have increased by 27 percent between 2007 and 2016. In contrast, other traffic-related deaths have decreased by 14 percent during the same period.
When comparing California to other states, statistics show that pedestrians are particularly vulnerable in the Golden State. In California, 893 pedestrians were killed, and 14,000 pedestrians were injured on the roads in 2018. Some of the most common causes of pedestrian accidents include careless driving, excessive speeding, and drivers failing to yield to pedestrians. When faced with a situation like this, it is critical to seek the advice of an experienced attorney.
San Diego County Wrongful Death Attorney for Victims of Fatal Pedestrian Accidents
Anyone can be involved in a pedestrian accident. Unfortunately, it can be difficult to avoid, particularly on California highways. As a result, it is critical to file a wrongful death claim as soon as possible. When filing a claim, the victim's family may seek the advice of an experienced attorney.
If your loved one died in a pedestrian accident, you have the legal right to seek justice and compensation for their losses. A wrongful death claim may be able to assist you in recovering compensation for medical bills, funeral expenses, lost wages, and pain and suffering as a result of the accident.
Our attorneys at Arash Law are available to assist you at any time of day or night. You will be one step ahead of the insurance company or responsible party if you hire an experienced pedestrian accident attorney from Arash Law. You will also avoid making mistakes that could jeopardize your claim.
If you prefer, we can come to you at your home or place of business; our offices are conveniently located throughout California in cities such as Los Angeles, Sacramento, San Francisco, Riverside, Orange County, and San Diego, and we are always happy to visit. In California, call (888) 488-1391 for a no-obligation consultation with a wrongful death attorney at no cost.